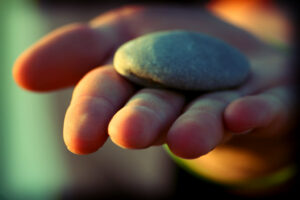 I recently came across a curious Bible verse in the book of Revelation: "To him who overcomes, to him I will give some of the hidden manna, and I will give him a white stone, and a new name written on the stone which no one knows but he who receives it" (Revelation 2:17).
What in the world does it mean to get a "white stone" from Jesus?  I believe that historians can help us here. Back in those days, it was customary in the Roman world to use white stones with an individual's name on them as a pass to get into special events. Sometimes the Romans would give out the white stones as free passes to entertainment; sometimes the white stones were given to the victors at athletic competitions as a free pass to a special awards banquet.
The stones Jesus was speaking about giving out were free invitations. Instead of invitations to things in this world, though, Jesus was talking about giving out free passes to eternal life. Earlier in Scripture, Jesus told us that eternal life begins with an invitation.  "Come to Me, all who are weary and heavy-laden, and I will give you rest" (Matthew 11:28).
I was excited when I realized that these white stones are not mass-produced. Christ's free passes are extra special because God treats each of us as individuals. Each stone has a unique name on it that "no one knows but he who receives it." God knows every detail about each one of us including the number of hairs we have on our heads (see Luke 12:7). God doesn't save groups of people. He saves individuals.
The white stones are not given to everybody. "And if anyone's name was not found written in the book of life, he was thrown into the lake of fire" (Revelation 20:15). Christ's white stones are free passes to eternal life, but they are only for those who turn from their sin. We must see our sin as an affront to God's holy nature. As Jesus put it, we should, "Repent, for the kingdom of heaven is at hand" (Matthew 4:17). Then we must put our full trust in Christ's work so He will not only pay off the penalty of our sin but will also cover us with His perfect righteousness. "I will rejoice greatly in the Lord, my soul will exult in my God; For He has clothed me with garments of salvation, He has wrapped me with a robe of righteousness…." (Isaiah 61:10).
Next, notice that the names the Lord puts on those white stones are new. When we answer Christ's invitation, then He also gives us the strength to live new lives. That's why the stones go "to him who overcomes."
A changed life is possible when we put our trust in Christ because He miraculously makes us new from the inside out. "Therefore, if anyone is in Christ, he is a new creature; the old things passed away; behold, new things have come" (2 Corinthians 5:17). The strength to overcome our sinful natures is possible as we depend on Christ. He is the one who enables us to live better lives: "For whatever is born of God overcomes the world, and this is the victory that has overcome the world—our faith" (1 John 5:4).
It is also comforting to know that what Jesus gives, He never takes away. "… I will give them an everlasting name which will not be cut off" (Isaiah 56:5). It is so good to know that when you are in Jesus Christ, you are eternally safe. None of us deserves to get Christ's free white stone. "But God, being rich in mercy, because of His great love with which He loved us, even when we were dead in our transgressions, made us alive together with Christ (by grace you have been saved)" (Ephesians 2:4–5).