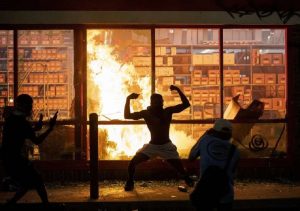 I know that not everyone agrees, but it seems to me that our culture is sliding into chaos. We have many reasons to be concerned. I read that as a result of the recent rioting, a third of the pharmacies in Philadelphia have been damaged. Many of them had to be closed due to rampant looting. Hundreds of other stores have been forced to close, and many of them may never be able to reopen. It seems that the horrific injustice we saw on our screens–where a man lost his life at the hands of an out-of-control police officer–has become an excuse to destroy what belongs to others and to put even more lives at risk.
The present chaos is also having a ripple effect that causes more chaos.
Now mobs are destroying monuments and historic statues. Removing some of the statues may be a good thing, but it should happen by peaceful referendums, not by emotionally-charged throngs of angry activists. Lawlessness breeds more lawlessness. Destructive behaviors must be restrained. Otherwise, mob rule will always wind up trampling on the rights of others.
In my experience, the lawlessness we have witnessed has spawned a general feeling of uneasiness and despair, even among those of us who have not been rioting.
Cheer up! I am encouraged by the message of God's Word.  "The hope of the righteous is gladness, but the expectation of the wicked perishes" (Proverbs 10:28). We don't have to wallow in gloom and doom. Amid this present mess in our country, there is some very hopeful news.
Sinful behavior (unless there is repentance and a turning to Jesus) will always fail. "He who sows iniquity will reap vanity, and the rod of his fury will perish" (Proverbs 22:8). Lawless protests will never bring any lasting satisfaction to the protesters themselves. Punishing others around us because of past wickedness brings only temporary satisfaction. It still leaves an empty heart.
Real meaning is found only in the One who created us. Our lives find lasting meaning when we give ourselves to God. That's because we exist to glorify God. "He has made us to be a kingdom, priests to His God and Father—to Him be the glory and the dominion forever and ever. Amen" (Revelation 1:6).
The pathway to hope is only found in the Bible. "For whatever was written in earlier times was written for our instruction, so that through perseverance and the encouragement of the Scriptures we might have hope" (Romans 15:4).
What is our hope while we are waiting for the wicked to fail and for God to triumph? "My soul, wait in silence for God only, for my hope is from Him" (Psalm 62:5). When the Bible uses the word HOPE, it means having "a confident expectation that God will do what He has promised." God's hope is impressive and certain.
Many benefits are available to believers when they hope in the one true God.
God's hope infuses us with "…Grace, mercy, and peace from God the Father and Christ Jesus our Lord" (1 Timothy 1:2).
God's hope gives us joy and peace. "Now may the God of hope fill you with all joy and peace in believing, so that you will abound in hope by the power of the Holy Spirit" (Romans 15:13).
God's hope protects us. "Behold, the eye of the Lord is on those who fear Him, on those who hope for His lovingkindness" (Psalm 33:18).
God's hope gives us courage in the face of bad circumstances. "Be strong and let your heart take courage, all you who hope in the Lord" (Psalm 31:24).
When you put your faith in Christ, you will know you are on the winning side. You have no reason to fear. There is coming a day when the wicked "will wage war against the Lamb, [Jesus Christ] and the Lamb will overcome them, because He is Lord of lords and King of kings, and those who are with Him are the called and chosen and faithful" (Revelation 17:14).
In other words, we can be peaceful and joyful even when our culture goes dark. God's peace is incredibly powerful. "Be anxious for nothing, but in everything by prayer and supplication with thanksgiving let your requests be made known to God. And the peace of God, which surpasses all comprehension, will guard your hearts and your minds in Christ Jesus" (Philippians 4:6–7).
Just remember: When all is said and done, wickedness loses and those in Christ win! Here is a message of hope that Jesus Himself said to His followers: "Peace I leave with you; My peace I give to you; not as the world gives do I give to you. Do not let your heart be troubled, nor let it be fearful" (John 14:27).