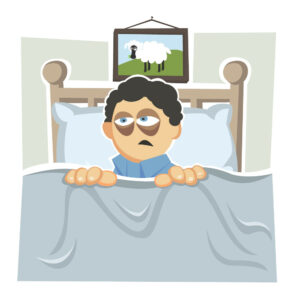 When we were children, adults insisted we do things that made no sense to us. Making the bed is a good example. I remember my mother insisting that I make my bed each morning. I didn't see what difference it made. I was just going to mess it up again that night anyway.
When we got older, math teachers taught us algebraic equations so we could find out what "X" stood for. To this day, I have never found myself walking down the street wondering, not even for a moment, what is the answer to "X."
There are other areas of our lives that also make us ask, "What difference does it make?" Religion is an example. Different religions ask their followers to do different things. Some tell them to pray a certain number of times every day, or to gather regularly for public religious observances, or to perform various ceremonies. Some things are easy. Some are hard.
What difference does it make if one person works hard to obey their religion's rules and another person enjoys life without doing any of that?
If you have asked a similar question, you aren't alone. In fact, the writer of Psalm 73 in the Bible asked that kind of question. He worked very hard at being good (see Psalm 73:13), but it looked like the wicked were the ones who had all the benefits. "For I was envious of the arrogant as I saw the prosperity of the wicked" (Psalm 73:3) "They are not in trouble as other men, nor are they plagued like mankind" (Psalm 73:5)."Behold, these are the wicked; and always at ease, they have increased in wealth" (Psalm 73:12).
The man who wrote those words felt like he was wasting his time following the One True God. He didn't see any upside. Perhaps you have been at the same place in your spiritual journey. You'll want to keep reading and see what he discovered.
Before we look at the end of the Psalm, I'd like to remind you of the difference between genuine Christianity and all the other religions out there. Christianity does not give you a list of rules to follow so you can get closer to God. It is the story of how God came to us and did for us what we could not do for ourselves. Jesus died to pay the full penalty for our sins. He, the Son of God, was sinless. He had no sin of His own to die for. There is nothing for us to do except repent of our sin and put our trust in Him. Notice how Paul summed up what he taught: "I did not shrink from declaring to you anything that was profitable… solemnly testifying … repentance toward God and faith in our Lord Jesus Christ" (Acts 20:20–21).
Pastor J. Vernon McGee (1904-1988) put it this way, "There are only two kinds of religion in the world. They all say, 'Do, do, do.'  Only Christianity says, 'Done.' Christ has done it all."
What is it that changed the discouraged Psalm writer into someone who had this kind of peace and joy: "My flesh and my heart may fail, but God is the strength of my heart … the nearness of God is my good; I have made the Lord God my refuge, that I may tell of all Your works" (Psalm 73:26–28)?
A few verses earlier we find the key that lifted the cloud of apparent unfairness that had been discouraging the writer: "Until I came into the sanctuary of God; Then I perceived their end. Surely You set them in slippery places; You cast them down to destruction. How they are destroyed in a moment! They are utterly swept away by sudden terrors! Like a dream when one awakes, O Lord, when aroused, You will despise their form." (Psalm 73:17–20).
Yes, there is a difference between those who trust Christ and those who don't. The consequences last forever. To put it another way, eternity is a very long time. What happens there is most important. "… The sufferings of this present time are not worthy to be compared with the glory that is to be revealed to us" (Romans 8:18).
The Psalm writer was not only reminded that his eternity was secure, but he also joyfully told the Lord, "Nevertheless I am continually with You; You have taken hold of my right hand. With Your counsel You will guide me, and afterward receive me to glory" (Psalm 73:23–24).
What difference does it make if you have put your trust in the Lord? The difference is enormous. If you are in Christ, then "… neither death, nor life, nor angels, nor principalities, nor things present, nor things to come, nor powers, nor height, nor depth, nor any other created thing, will be able to separate [you] from the love of God, which is in Christ Jesus our Lord" (Romans 8:38–39).