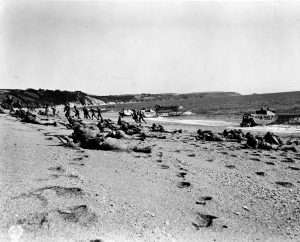 "… Your adversary, the devil, prowls around like a roaring lion, seeking someone to devour" (1 Peter 5:8).
On April 28, 1944, during World War II, Allied soldiers were secretly practicing amphibious beach landings in preparation for the D-Day invasion of Normandy. The place chosen for this exercise was a remote area on the southern shores of England called Slapton Sands.
The British sent two Destroyers, three Motor Torpedo Boats, and two Motor Gunboats to protect this area. As the mock invasion got underway, there were two ships assigned to protect the Allied amphibious ships. As fate would have it, one ship had to return to port for repairs, leaving only one to watch for the enemy.
The Germans, who had learned about the maneuvers, were able to slip 9 E-boats (fast low profile gun boats) close enough to open fire on the soldiers. That attack was a disaster. The Germans killed over 700 unsuspecting American servicemen in that assault. Today, a monument still stands on Slapton Sands to commemorate the sacrifice of those young men who died while training for battle, but were never able to enter the real conflict.
Enemy surprise attacks are always frightening in our physical world, but they are also dangerous in the spiritual world, too. That is why Christians are warned against Satan's attempts to trip them up. Satan has many tricks up his sleeve, but the good news is that these deceptions are not new. The Apostle Paul says that "… we are not ignorant of

[Satan's] schemes" (2 Corinthians 2:11).

Before we explore a few of Satan's tricks, let's focus for a moment on what God wants from us. When we know the Bible, it will make Satan's traps more obvious because Satan always wants the opposite of what God wants. We were all created in order to exalt our Maker (Matthew 5:16). We should do that because Jesus has paid our sin debt (1 Corinthians 6:20) and because God is so glorious and worthy of our devotion (Revelation 5:12).

Living by faith begins when we decide to trust Jesus to forgive all our sin. That is important because "… a man is not justified by the works of the Law but through faith in Christ Jesus…" (Galatians 2:16). Then, and only then, we are adopted by God into His eternal family. "For you are all sons of God through faith in Christ Jesus" (Galatians 3:26).

Look back at the Bible verse I began this article with. It compared Satan to a roaring lion. Let's look at a few examples of what Satan "roars" to distract us from focusing on God and His glory.

Satan roars: "Cheat a little bit, or you won't have enough money for your bills this month." The Bible says, "My God will supply all your needs according to His riches in glory in Christ Jesus" (Philippians 4:19).

Satan roars: "If you sacrifice your life for Christ, you won't be able to have life's necessities." God says, "But seek first [God's] kingdom and His righteousness, and all these things will be added to you" (Matthew 6:33).

Satan roars: "You don't have the strength or the ability to do what God wants you to do." God says, "Yet those who wait for the Lord Will gain new strength; they will mount up with wings like eagles, they will run and not get tired, they will walk and not become weary" (Isaiah 40:31).

Satan roars: "You need to give in to the sinful influences of this world because you can't live differently than everyone else around you." God says, "come out from their midst and be separate," says the Lord. And do not touch what is unclean; and I will welcome you." (2 Corinthians 6:17) and "Submit therefore to God. Resist the devil and he will flee from you" (James 4:7).

Satan roars: "If you follow Christ, you will wind up unloved and lonely." God says, "The Lord is the one who goes ahead of you; He will be with you. He will not fail you or forsake you. Do not fear or be dismayed" (Deuteronomy 31:8). "Have I not commanded you? Be strong and courageous! Do not tremble or be dismayed, for the Lord your God is with you wherever you go" (Joshua 1:9).

Notice that the solution in every instance is to believe what God says, instead of just believing our own natural feelings or thoughts.

Dr. John MacArthur writes that, "The way to resist the devil is not with special formulas, or words directed at him and his demons, but by remaining firm in the Christian faith. This means to continue to live in accord with the truth of God's Word. As the believer knows sound doctrine and obeys God's truth, Satan is withstood." [MacArthur, J.: The MacArthur Study Bible Nashville: Word Pub]

To put another way, being firm in our faith means making decisions based on what God says, not on what feels good or what we think will make our lives better.

Don't let Satan sneak up on you tell you a lie. Jesus really does love you.