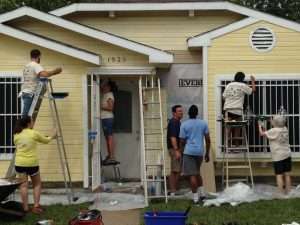 A few weeks ago I saw an encouraging local news story on TV.  It actually reminded me of something that Peter wrote in a Bible passage I have been studying.
The story began by telling about an elderly war vet who was living alone in a house that had fallen into terrible disrepair. When neighbors learned about his situation, they came together and repaired his house. They did extensive repairs to the electrical and plumbing systems, as well as fixing the floors and painting the walls. Their selfless actions demonstrated a heart-warming service for a man who could not do those things for himself.
In the Bible passage I have been studying, the Apostle Peter wrote a letter to Christians who were experiencing some very difficult persecution. Toward the end of that letter he encouraged them with these words: "After you have suffered for a little while, the God of all grace, who called you to His eternal glory in Christ, will Himself perfect, confirm, strengthen and establish you" (1 Peter 5:10).
Not only will Christians experience Christ's "eternal glory," but they can also look forward to God's blessings in the "here and now." Notice those four words I underlined in the verse above. Those words highlight what God has promised to do for His suffering followers in this world, right now. Although no one likes to suffer, God's Word is telling us that He has good things in store for Christians who are going through difficult days.
All of those underlined words tell us different good ways God wants to use suffering in our lives. For the sake of time, let's just look at the first word: perfect. It literally means "to fit or join together, to mend or repair." This is a word that fishermen like Peter would have used for mending their nets. The promise is that God is at work right now mending what the world has ripped apart in our lives. God wants to restore the purity that we have squandered. God wants to erase the scars that life has left on us. We have all been beaten up by both our own sinful natures and also by the brokenness of the world around us.
The hard truth is that God allows suffering so He can mend our broken lives. As I watched the pictures of the kind neighbors hammering and painting and rebuilding the aged veteran's house, it reminded me of how God is working to repair and rebuild us. The surprising thing is that He often uses suffering to do it!
Here's another way to think about it. Many people are willing to endure a lot of pain in the gym just so they can have strong muscles. In a similar way, God wants to strengthen our faith "muscles." One Bible teacher put it this way: "Through suffering God will strengthen a man.… A life with no effort and no discipline almost inevitably becomes a flabby life. No one really knows what his faith means to him until it has been tried in the furnace of affliction. There is something doubly precious about a faith which has come victoriously through pain and sorrow and disappointment. The wind will extinguish a weak flame; but it will fan a strong flame into a still greater blaze. So it is with faith."
[
The Daily Study Bible
by William Barclay]
Here is some really good news: Failure for a Christian is not final! Placing our faith in Christ is an event when we submit to Him. This is called the "New Birth." It is only the beginning, though. All through our life in this world, God is working to develop in us a strong and growing faith. It is an ongoing process where God uses our hurts and our failures.
If anyone knew about failure, it was Peter. You may remember that Peter was the disciple who wimped out after Jesus was arrested. He even denied that he was a follower of Jesus to a little servant girl. Knowing ahead of time that Peter was going to fail, earlier Jesus had told him: "Simon, Simon, behold, Satan has demanded permission to sift you like wheat; but I have prayed for you, that your faith may not fail; and you, when once you have turned again, strengthen your brothers" (Luke 22:31–32).
What a wonderful truth! Even when we fail to trust the Lord during a trial as we should, after we have repented and asked the Lord's forgiveness, we can still be used to strengthen others as they go through trials. That is why Paul talked about the, "… God of all comfort, who comforts us in all our affliction so that we will be able to comfort those who are in any affliction with the comfort with which we ourselves are comforted by God" (2 Corinthians 1:3–4). Here is the point: as we learn how to trust God during trials, we become better equipped to encourage others through their trials.
If you are a Christian, then God is constantly working to strengthen your faith. "…He who began a good work in you will perfect it until the day of Christ Jesus" (Philippians 1:6). Don't be discouraged by your trials. Remember He says that He "is able to keep you from stumbling, and to make you stand in the presence of His glory blameless with great joy" (Jude 24). In that day we will be blameless, not because of the good works we have done, but because of Jesus' work on the cross. Those of us who are Christians are safe in Him, and He never stops using everything that happens to us to make us more and more like Him. He is repairing us, as He is repairing our faith.