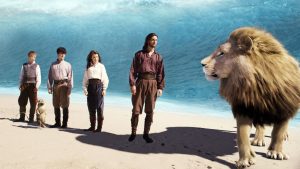 Maybe you have read the book (or seen the movie) The Chronicles of Narnia, by the Christian writer C. S. Lewis. It's a story about four children who accidentally stumble into a magical world of talking animals, a wicked witch, and a great, powerful lion named Aslan. Aslan is good, as well as powerful. (When you read the story, you can see that he is a picture of Jesus Christ.)
In one scene the two girls, Susan and Lucy, are about to meet Aslan for the first time. Two of the talking animals, Mr. and Mrs. Beaver, are trying to prepare the children for what they are about to see.
"Ooh," said Susan, "I thought he was a man. Is he quite safe? I shall feel rather nervous about meeting a lion."
"That you will, dearie," said Mrs. Beaver. "And make no mistake, if there's anyone who can appear before Aslan without their knees knocking, they're either braver than most or else just silly."
"Then isn't he safe?" said Lucy.
"Safe?" said Mr. Beaver. "Don't you hear what Mrs. Beaver tells you? Who said anything about safe? Of course, he isn't safe. But he's good. He's the king, I tell you!"
Later, as the children got to know the awesome lion Aslan, they learned that he was able to quiet all of their other fears about this very strange land they had entered. We, too, can have our fears quieted when we get to know the powerful God Aslan represents. When we fear God, the fear of Him will drive all other fears away.
You may ask, "If God is loving, then why should I fear Him?" We should fear God because He is more than just loving. God is also holy, and His holiness requires that all sin be paid for. You see, if God allowed sin to go unpunished, He would be violating His own holiness. God cannot do that. That is why God says, "I will vindicate the holiness of My great name which has been profaned among the nations, which you have profaned in their midst. Then the nations will know that I am the Lord,' declares the Lord God, 'when I prove Myself holy among you in their sight'" (Ezekiel 36:23).
Do you wonder what it means to fear God? Having a fear of God means, as Bill Gothard put it, "The continual awareness that God is watching and weighing every one of my thoughts, words, actions, and attitudes." God is holy, and He hates my sin and yours. The Bible says, "The fear of the Lord is to hate evil…" (Proverbs 8:13).
There is a wonderful benefit for all those who fear God. Those who fear Him are trusting in the payment for sin that Jesus made on the Cross. God tells us that, "While we were still helpless, at the right time Christ died for the ungodly. …. God demonstrates His own love toward us, in that while we were yet sinners, Christ died for us. Much more then, having now been justified by His blood, we shall be saved from the wrath of God through Him" (Romans 5:6–9).
A proper fear of God produces an amazing peace: "The fear of the Lord leads to life, so that one may sleep satisfied…" (Proverbs 19:23); "The fear of the Lord is a fountain of life, that one may avoid the snares of death" (Proverbs 14:27).
The fear that Christians have for God is a type of fear that attracts them to Him, rather than a fear that drives them away from God. Why? Because we have nothing to fear when we are safe in the arms of the One who loves us and yet is the One who has all power. "The eternal God is a dwelling place, and underneath are the everlasting arms…" (Deuteronomy 33:27).
Susan and Lucy, the girls in C. S. Lewis's story, were right to have a fear of the great lion Aslan. That is how their relationship with Aslan began. That is also the only way our relationship with God can begin. "The fear of the Lord is the beginning of wisdom, and the knowledge of the Holy One is understanding" (Proverbs 9:10).
Their fear of the lion was later mixed with a deep affection for him. Do you feel that way about God? Do you have a deep love for Christ because He was willing to show His great love for you on the Cross? Christ's love for you can cast all other fears out of your life. "There is no [natural] fear in love; but perfect love casts out fear, because fear involves punishment, and the one who fears [punishment] is not perfected in love. We love because He first loved us" (1 John 4:18–19).