I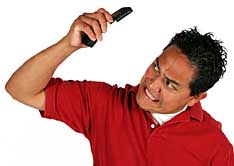 t is so frustrating when a cell phone call is dropped. Maybe you can relate. You are in the middle of an extended conversation with a close friend. After spending a long time sharing important, heartfelt information, you pause for a response–only to discover that no one is on the other end. The call has dropped. That means that no one heard your innermost thoughts, and you don't even know when the listening stopped. It's hard not to feel frustrated.
Similarly, prayer can also leave some people feeling annoyed. They pray, but they're not sure that God is even listening. Rarely is there a tangible response to reassure them. In the past, they remember asking God for things that apparently were not provided.
Do you feel that way? Stay with me, and I'll show you how you can know that your prayers are connected to the Lord and that they are NOT being ignored.
Prayer must start from a relationship, one that is closer even than the friend you were talking to on the cell phone. It can't come from religious duty. It can't start from a list of things you need, like ordering from an online grocery store.
Our prayers can be joyful when we know for sure that God loves us and that He always pays attention when we call out to Him. Calls to Him never drop, and He never stops listening.
If you find prayer frustrating, perhaps you don't have an intimate relationship with God. Do you want to have one?  Having a close relationship with God begins with knowing what kind of God we are talking to.
God tells us what He is like because God will not conform Himself to our imaginations. That is why the Bible is filled with descriptions of God. For example, God tells us "… I am God, and there is no other; I am God, and there is no one like Me, declaring the end from the beginning, and from ancient times things which have not been done, saying, 'My purpose will be established, and I will accomplish all My good pleasure'" (Isaiah 46:9–10). This is why Christians read their Bibles daily. We want to know Him. There is always more to understand because the God who created us is so big and so amazing.
After you begin to read His Word and understand who God really is, you will long for a personal experience with Him. You will also realize what is standing in your way. You will also become more aware of your sin. Yes, God can seem distant because He is holy, and we are sinners. "Your iniquities have made a separation between you and your God, and your sins have hidden His face from you so that He does not hear" (Isaiah 59:2).
As you keep reading the story of the Bible, it brings wonderful news. God–who cannot be reached because He is so exalted–is willing to reach down and make a way for us to have a close relationship with Him. When we turn from our sin, we see that Jesus lived the perfect life we could not live and then died to pay the penalty our sin deserves. When we turn from our own way and follow Him, we are included in His family (see Ephesians 1:5-6). That's when the joy comes. What an amazing thing that the all-powerful Creator of the universe will listen to our prayers!
Why is God willing to do that? God forgives our sins and relates to us intimately for two reasons. First, so He can receive glory and praise. God adopts us "… as sons through Jesus Christ to Himself, according to the kind intention of His will, to the praise of the glory of His grace, which He freely bestowed on us in the Beloved" (Ephesians 1:5–6).
Second, God saves us so we can experience the joy of loving Him. The greatest joy any of us can have is knowing God. "O sing to the Lord a new song, for He has done wonderful things, His right hand and His holy arm have gained the victory for Him" (Psalm 98:1).
That joy changes our prayers. We share our innermost thoughts with a close friend much differently than we do with a stranger or a casual acquaintance. When we know God loves and cares for us–and when we love Him–we can share everything with Him. We trust the answers He gives us because we know how much He loves us.
God does not love groups of people, He loves individuals. Trust in Christ, follow Him, and you will discover the love you have been looking for all your life. "But now, thus says the Lord, your Creator… 'Do not fear, for I have redeemed you; I have called you by name; you are Mine!'" (Isaiah 43:1).