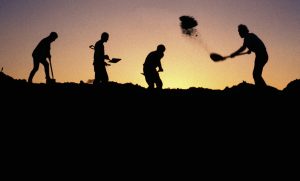 Suppose that I made the following invitation: This Thursday at 5 pm we will be hosting a "Trench Digging Party" in the church's backyard. Shovels will be provided. We are planning to dig a trench that is 100′ long, 5′ deep and 4′ wide. All in the neighborhood are invited. How many do you think would show up to dig? If you guessed no one (or not many), I'm sure you would be right.
Actually, however, thousands of similar trenches have been enthusiastically dug by hand. Are you shocked? Who would spend all that time just digging a narrow ditch? Combat soldiers call them fox holes, and they will dig eagerly for fear that bullets and bombs may soon start flying. What motivates them to expend all of that energy? The answer is obvious. They care about digging trenches because they feel a vital need for them.
Think for just a moment about how digging into the Bible can be compared to digging into the ground to make a fox hole. Of course, the first question to ask about both projects is, why go to all that trouble? Both are hard work. Why would anyone put out that kind of effort to read the Bible? After all, the Bible is an ancient book, and there are no pictures.
The truth is that we don't do anything difficult unless we are convinced that the benefits are worth it. For example, a lot of people don't like going to work, but they really like the paycheck, so they get up every morning and go do their job, even when they don't feel like it.
Many of you probably don't read the Bible regularly because you aren't convinced of the benefits. When you do try to read it, it feels like digging a trench for no apparent reason.
Before I give you a brief list of the benefits that studying the Bible can bring you, let me first explain the starting point. These benefits won't provide enough motivation unless you first know and love the Author of the book. You see those of us who know and love Jesus Christ, want to get to know Him better. That is why we start reading His book.
Why should we love Him? The Bible explains it this way, "… walk in love, just as Christ also loved you and gave Himself up for us, an offering and a sacrifice to God as a fragrant aroma" (Ephesians 5:1–2).
If you love Jesus because of all He did for you, then the following benefits of reading and knowing the Bible will encourage you. These are promises that will motivate you to keep working to understand the Bible better.
The Bible reveals God's love for us. "The earth, O Lord, is full of your mercy and lovingkindness; teach me your statutes" (Psalm 119:64).
The Bible reveals God's unchanging faithfulness. "Forever, O Lord, Your word is settled in heaven. Your faithfulness endures to all generations; You established the earth, and it abides" (Psalm 119:89-90). God is FAITHFUL!
The Bible helps you make decisions. "Your word is a lamp to my feet and a light to my path" (Psalm 119:104-105).
The Bible can bring you happiness. "Blessed (happy, fortunate, to be envied) are the undefiled who walk (order their conduct and conversation) in the law of the Lord" (Psalm 119:1 Amplified). "How blessed is the man who does not walk in the counsel of the wicked, nor stand in the path of sinners, nor sit in the seat of scoffers! But his delight is in the law of the Lord, and in His law, he meditates day and night" (Psalm 1:1–2).
The Bible can give you victory over sin. "How can a young man cleanse his way? By taking heed according to Your word… Your word I have hidden in my heart, that I might not sin against You." (Psalm 119:9, 11). A great preacher said once, "God's Word will keep you from sin, or sin will keep you from God's Word."
The Bible can show you astonishing things. "Open my eyes, that I may see wondrous things from Your law" (Psalm 119:18).
The Bible can restore your emotional health. "My soul clings to the dust; revive me according to Your word" (Psalm 119:25). Do you want a sense of inner peace? It will be real when God's Word gets into your heart! "Great peace have they who love your law, nothing shall offend them or make them stumble" (Psalm 119:165).
John Wanamaker (1838-1922), who was a famous merchant here in Philadelphia, said: "I have of course made large purchases of property in my lifetime … and the buildings and grounds in which we are now meeting represent a value of approximately twenty billion dollars. But it was as a boy in the country, at eleven years of age, that I made my biggest purchase. In a little mission Sunday school, I bought from my teacher a small, red, leather Bible. The Bible cost me $2.75—which I paid in small installments as I saved. That was my greatest purchase, for that Bible made me what I am today." [From Paul Lee Tan, Encyclopedia of 7700 Illustrations: Signs of the Times, (Garland, TX: Bible Communications, Inc., 1996), Page 190]
If you would like to learn more about the Bible, I can point you to resources where you can find out more about it on your own for free. Of course, we would love to have you join us when the Bible is taught here at Bethel Chapel Church. There are two opportunities on Sunday—10:00 AM in the Bible Training Hour and 11:00 AM in the worship service.
I hope you will discover the joy that God's Word can bring. "O how I love Your law! It is my meditation all the day" (Psalm 119:97).