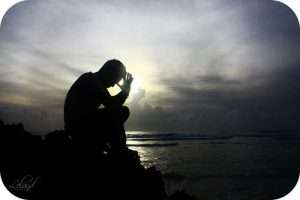 We all want a response from God after we have put out the effort to pray to Him. Why, though, do our prayers often go unanswered? Maybe you have begged and begged God to help a friend or get a job for a loved-one, and your cries of anguish didn't seem to accomplish anything. Stick with me, because in a minute I'm going to share two keys from the Bible that open the door to answered prayer.
Before I share those two important truths, we must first acknowledge that God has the right to lay out rules for how our lives should work. In other words, no one knows better that the Creator how His creatures should live their lives.
Let me illustrate. We all understand the importance of reading and following the manufacturer's instructions when we buy something new. Ignoring those instructions can bring a lot of despair. I know. I have tried.
There have been times when I bought a new toy for my children that had to be assembled. I didn't bother to read the directions because I was confident that I could figure it out on my own. (Maybe that is a common problem that we men have?) You know how it goes. I would tear open the box and start putting that toy together. After spending way more time than I anticipated and getting progressively more frustrated, eventually I would dig through the rubble and start reading the directions that came with the toy. Sometimes I would find out that I messed up from the very beginning, so I had to undo everything and start all over.
I did a Google search on the internet for the expression "follow manufacturer's directions" and it proved that following the manufacturer's directions must be important,  It came back with 49,300 documents containing that phrase. It is just as important that we apply that same concept and that we follow our manufacturer's instructions–that is God's instructions–for our prayer lives.
One of God's instructions for prayer is found in 1 John 3:22-23. John said that if our conscience is clear "whatever we ask we receive from Him, because we keep His commandments and do the things that are pleasing in His sight. This is His commandment, that we believe in the name of His Son Jesus Christ, and love one another, just as He commanded us."
Notice that there are two instructions to follow if we want to see our prayers answered.
First, we must pursue God's command to believe in Jesus Christ. Before we pray, we should make sure that we have placed our full and unwavering trust in Jesus and His work on our behalf. God's promises are only effective for His children. "But as many as received [Jesus], to them He gave the right to become children of God, even to those who believe in His name" (John 1:12). The Bible is clear that we don't earn answers to prayer by keeping God's commandments. We keep His commandments because we belong to Him and love Him.
Second, God says that our prayers should be motivated by love—a love for God, but also a love for others. Pastor John Piper puts it this way: "Prayer is God's way of making himself available for us when we are pouring ourselves out in love for others. Prayer is the power to love. Therefore if we do not aim to love, we pray in vain. Prayer is not designed to compound hoarded pleasures. Prayer is a way of calling God alongside us in doing what Jesus came to do. "By this we know love, that he laid down his life for us; and we ought to lay down our lives for the brothers" (1 John 3:16)." [See http://www.desiringgod.org/articles/when-does-god-answer-prayer]
When we put our trust in Jesus, we gain a love for Christ that motivates us to love others in the way that we pray. Over and over, the Lord invites us to pray. He wants us to share our most cherished thoughts with Him. The longer I have been a Christian, the more real and intimate my relationship with Christ has become, and hardly a day goes by that He doesn't answer one of my prayers.