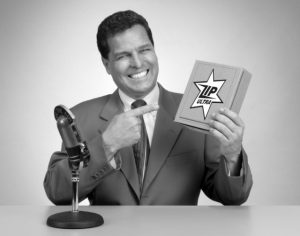 We've all seen those infomercials on TV, often late at night, where a high energy person is pitching an "amazing product" which will definitely fix a problem you didn't know you had. Many of us continue to watch partly because we wonder what it will cost. After describing the product in glowing terms, they tell you that if you "buy now" you will get an incredible deal, all the while assuring you that this product is worth much more. Then they often sweeten the offer by saying, "But that's not all, we will also send you…" and then mention another gadget that you can get for no additional cost.
While I am far from a high energy pushy salesman, I do often point out in these articles that the best offer you have in front of you is God's forgiveness. It is His free gift to those who repent and put their trust in Jesus. Today I want you to see that, yes, God's grace is free to us, although it cost Jesus dearly. But that is not all!
God's grace doesn't just wipe away our sin (see Ephesians 2:8-9). It does much more!
Did you know that if you ever feel emotionally exhausted you can "… be strong in the grace that is in Christ Jesus" (2 Timothy 2:1)? When you find it hard to do what is right, then "God is able to make all grace abound to you so that always having all sufficiency in everything, you may have an abundance for every good deed" (2 Corinthians 9:8). If following Jesus gets tough, as it often did for the Apostle Paul, then remember "… as Christ was raised from the dead through the glory of the Father, so we too might walk in newness of life" (Romans 6:4).
In other words, God has a great storehouse of encouragement and strength to do what appears to be impossible for us. How do we access this supernatural power? The Bible tells us how.
God's power is available when we humbly admit that we need God's help (or grace). God "gives a greater grace. Therefore, [the Bible] says, 'God is opposed to the proud, but gives grace to the humble'" (James 4:6). It is our pride that leads us to think that we can handle life (or most of it) without the help of our Maker.
Being a weak person not only doesn't hinder God's work, it is actually a requirement. That is what Paul had to learn. At a very low point in his life, he started begging God to remove a severe trial he was going through. Instead of granting that request, God told him "…My grace is sufficient for you, for power is perfected in weakness." (2 Corinthians 12:9).  Paul learned that when he humbly came to God for strength, he found a supernatural strength so that he could be "… content with weaknesses, with insults, with distresses, with persecutions, with difficulties, for Christ's sake; for when I am weak, then I am strong" (2 Corinthians 12:10).
19th Century British pastor Charles Spurgeon encourages us with these words: "Humble hearts seek grace, and therefore they get it."
God's grace is not only able to guide and strengthen us for the daily issues we face, it also gives us the joy of knowing that through Christ we will have access to God's amazing grace for all eternity. It is God's wonderful grace that secures our "… inheritance which is imperishable and undefiled and will not fade away, reserved in heaven for you" (1 Peter 1:4).
The next time you think about God's grace to forgive you, remember that's not all. Along with His grace, God also gives guidance and comfort in this life and eternal joy in the next.