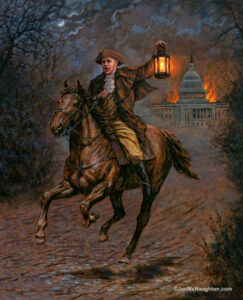 There is a famous story that happened in April 1775, at the beginning of the American Revolution. Paul Revere, along with two other men, rode their horses from Lexington to Concord (about a 7-mile trip) to announce breaking news to the colonists, telling them that the British army was advancing. The legend says that they shouted, "The British are coming! the British are coming!" Although many historians question the accuracy of some of the details in this story (sometimes stories tend to outgrow the facts!), Paul Revere's courageous, late-night ride did wind up alerting the American army, and that helped them defeat the British the next day.
Was Paul Revere's surprising announcement good news or bad news? It would depend on who you had asked. It was good news for the American troops because it allowed them to prepare for battle. It was bad news for the British troops because it spoiled what they probably thought would be an easy, surprise victory.
The Bible has breaking news, too, and it is far more vital than Paul Revere's announcement. "The day of the Lord [Jesus' return to earth] will come like a thief, in which the heavens will pass away with a roar and the elements will be destroyed with intense heat, and the earth and its works will be burned up… But according to His promise we are looking for new heavens and a new earth, in which righteousness dwells" (2 Peter 3:10, 13).
Pastor John Piper reminds us that when Jesus returns, "He will conquer! He will not be denied the fruit of his travail [i.e., hard work]. The earth is the Lord's and the fullness thereof. He made it. He redeemed it. He will have it."
Is that good news or bad news? Again, it depends on who you ask.
Despite the devastation that will take place when Christ returns to this earth, it will be good news for many. To Christ's followers, it will be a "… blessed [happy] hope and the appearing [a real, visible event] of the glory of our great God and Savior, Christ Jesus" [a spectacular appearance] (Titus 2:13).
Those who love Jesus have a longing to be with Him. "My soul waits for the Lord more than the watchmen for the morning; Indeed, more than the watchmen for the morning" (Psalm 130:6). Christ's return will be wonderful news for Christians. When it happens, they will forever be with the One they dearly love. "Beloved, now we are children of God, and it has not appeared as yet what we will be. We know that when He appears, we will be like Him, because we will see Him just as He is" (1 John 3:2).
It is also true that those who have NOT turned from their sin and who have NOT put their trust in Christ will be terrified and disgusted by His presence. We are told that when Jesus comes back to earth, those who lack a relationship with Him will be so repulsed by His presence that they will beg to be shielded from it. They will say to the mountains, "Fall on us and hide us from the presence of Him who sits on the throne, and from the wrath of the Lamb" (Revelation 6:16).
Why do Christians yearn to be with Jesus Christ? When Jesus returns, they will be perfect because all their sin has been paid for, all the evil forgotten and washed away, everything made right. They will rejoice because Jesus "gave Himself for us to redeem us from every lawless deed…" (Titus 2:14).
Only God can "… make you stand in the presence of His glory blameless with great joy" (Jude 24).
Don't miss this breaking news: "Jesus is coming, Jesus is coming!" Will His coming bring you joy or grief?