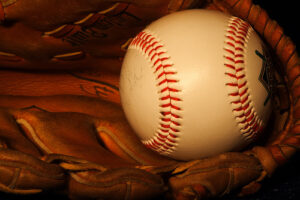 I love baseball. Ever since I was a boy, I dreamed of playing baseball as I listened to the Big-League games on my transistor radio. I've been a Phillies fan ever since I moved here, and I'm glad there is still hope this season for them to win the division. Along with all true fans, though, I long for the "good-ole-days," the days when players played the game just because they loved baseball.
Money, I'm afraid, has changed the game a lot. In 1965, the average annual salary for a big-league baseball player was only $17,000. Today it has ballooned to $4.17 million! And that is just the average. Modern players don't just play on diamonds. They can wear them, too!
The spring of 1995, though, was different. For the first few weeks of that season, the players hustled up to the plate when it was their turn to bat. Close calls by the umpires were not questioned. The players arrived at the park early and stayed after the game until the groundskeepers threw them out. When the coach asked for volunteers to shag fly balls, a dozen hands would go up. The players thanked the fans for coming to watch; they thanked the umpires, and they thanked those who washed their uniforms. When the players lined up to sign autographs, there were more of them than there were fans. Why was the Spring of 1995 different?
The regular players, even those in the minor leagues, went on strike. Since the owners were determined to open the season on time, they invited almost anyone to play who was willing to get out there and be on the team.
The games did not sparkle with awesome plays, mind you. Line drives didn't always get out of the infield, and the pitches were so slow that one coach said they didn't even register on the radar gun. It was not pretty, but the guys who were playing the game were ecstatic. They were thrilled that they could play the game of baseball, and it showed.
Why were these players so excited about playing? The replacement players weren't on the field because they earned the right to be there. They did not deserve to play in the big leagues. They knew they weren't good enough, but they had been given a once-in-a-lifetime opportunity to live out their dream. They weren't picked to play because they were good. They were picked to play because they wanted to play. One guy offered any team a hundred thousand dollars if they would just sign him. He desperately wanted to stay on a baseball team!
We smile at that kind of enthusiasm. Maybe you can remember how much you wanted to be chosen to play in a neighborhood pick-up game. Many of us had the thrill of being chosen for a team we wanted to play on.
There is even a bigger thrill in this life, though. Those of us who have come to Jesus to have our sins forgiven have the joy of knowing that we have been chosen by Him for eternity. Being picked to be on God's team is more important than anything in this world. The eternal benefits He offers are far greater than getting a chance to play in any game, even professional baseball.
We Christians have something in common with those excited, replacement baseball players. We, too, understand how unworthy we are to be adopted into God's eternal family. One of the things Paul makes very clear in the first five chapters of Romans is that we don't deserve to be picked to go to heaven. We aren't good enough. Notice: "For while we were still helpless, at the right time Christ died for the ungodly. For one will hardly die for a righteous man, though perhaps for the good man someone would dare even to die. But God demonstrates His own love toward us, in that while we were yet sinners, Christ died for us. Much more then, having now been justified by His blood, we shall be saved from the wrath of God through [Christ]" (Romans 5:6-9).
The replacement baseball players were excited. We should have that feeling in common with them. We must never lose the excitement that comes from trusting Christ's sacrifice on the Cross to pay for our sins. What a thrill to know our sins are forgiven. We know how completely undeserving we are! "Therefore, having been justified by faith, we have peace with God through our Lord Jesus Christ, through whom also we have obtained our introduction by faith into this grace in which we stand; and we exult [delight] in hope of the glory of God . . . And not only this, but we also exult [delight] in God through our Lord Jesus Christ, through whom we have now received the reconciliation" (Romans 5:1-2,11).
There is nothing like the wonderful feeling you have when you get something really good that you didn't deserve. Those of us who know Christ as Savior must never lose touch with the supreme happiness we have because we have been given the gift of eternal life by God Himself.
Are you on God's team? Have you admitted your need for forgiveness and trusted in Christ's work alone so you can receive the riches of salvation? When you do that, you know that Christ has selected you to be on His team. "But now having been freed from sin and enslaved to God, you derive your benefit, resulting in sanctification, and the outcome, eternal life. For the wages of sin is death, but the free gift of God is eternal life in Christ Jesus our Lord" (Romans 6:22-23).