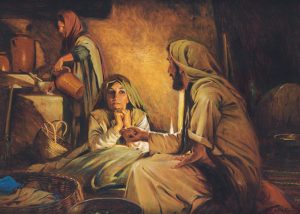 Maybe you are like me. I really like to keep my life simple. I don't do "complicated" very well. Maybe it's partly because I'm a man, but I'm not very good at multitasking, focusing on more than one thing at a time. I try to sort through the clutter that the world throws at me, and focus on simple truths.
Thankfully, I find that the Bible expresses life's issues in simple, easy-to-understand terms. For example, King David said, "One thing I have asked from the Lord, that I shall seek…." (Psalm 27:4) and the Apostle Paul wrote, "…one thing I do…" (Philippians 3:13).
In Luke Chapter 10, verses 38-42, we find a short and simple story tucked away in the life of Christ. It shows us in simple terms a way we can keep first things first.
This story takes place in the last six months of Jesus' life here on earth. With His band of followers, He stopped in the village of Bethany for some rest and relaxation. As was often the case, they were invited to stay in the home of three siblings: Mary (not Jesus' mother), Martha, and Lazarus. Elsewhere in the Bible, we learn that they all loved Jesus and that Jesus loved them.
We don't know how much notice, if any, Mary and Martha had that Christ was coming, but either way, it would have taken a lot of work to put on a meal for Him and the disciples who traveled with Him. When we read the story, we see two good women who made very different choices.
"[Martha] had a sister called Mary, who was seated at the Lord's feet, listening to His word. But Martha was distracted with all her preparations; and she came up to Him and said, 'Lord, do You not care that my sister has left me to do all the serving alone? Then tell her to help me.' But the Lord answered and said to her, 'Martha, Martha, you are worried and bothered about so many things; but only one thing is necessary, for Mary has chosen the good part, which shall not be taken away from her'" (Luke 10:39–42).
Notice some important things we can learn from this story.
Jesus not only visited these women, but He was willing to teach them about spiritual things. That may not sound like a big deal to us, but in that day, many rabbis said that teaching women was a waste of time. The fact that Jesus spoke to women and taught them showed that He valued women as well as men. Even the rebuke that Jesus gave to Martha was firm, yet gentle.
Also, note that both of the women made good choices. Mary chose to sit and learn from Jesus. That was a valuable way to spend her time. Martha, on the other hand, chose to do the hard work of slaving over a hot stove. I'm sure she felt like that work just had to be done.
Maybe Mary didn't tell her sister that she wasn't going to help with the meal preparation. Telling her beforehand would have been helpful.
We also know that they both loved Jesus. Mary wanted to honor Christ by spending time with Him, and Martha wanted to honor Christ by providing a meal for Him. Those are both good things.
Both of the women had good motives, but here is the difference: They had different priorities. Martha was focused on the food above everything else. That couldn't be the highest priority, though, because it was temporary. Soon the meal would be over, and the dirty dishes and the scraps would be the only evidence that it had even happened. What Mary learned from Jesus, though, was truth that would help her throughout her life. It was truth that would never grow old.
Martha's problem is revealed in her response. We know she was angry because she started off by blaming Jesus: 'Lord, do You not care that my sister has left me to do all the serving alone? Then tell her to help me." How about you and me? When our lives get tough, do we look for someone else to blame? Have you ever wondered, "Why do I have to do all the work?" Since God is in control of everything, we can be in danger of actually blaming Him for not sending us more help. That kind of stress causes us, like Martha, to be "worried and bothered about so many things."
When you have a choice between doing something—even something good—or spending more time learning about Jesus, which do you choose?
It is possible to work hard at serving the Lord without feeling overwhelmed. Here is how: It all comes down to who you are doing the work for. "Whatever you do, do your work heartily, as for the Lord rather than for men, knowing that from the Lord you will receive the reward of the inheritance. It is the Lord Christ whom you serve" (Colossians 3:23–24).
When you love Jesus, it becomes a privilege to serve Him–no matter what it may cost you. In order to fan the flames of our love for Jesus, we must first embrace His love for us. That is why the Bible says, "We love, because He first loved us" (1 John 4:19).
Pastor Warren Wiersbe writes that "Worship is at the heart of all that we are and all that we do in the Christian life." What about you? Are you a Mary or a Martha?
The many tasks we face each day
Can burden and oppress,
But spending time with God each day
Can bring relief from stress.
—David Sper