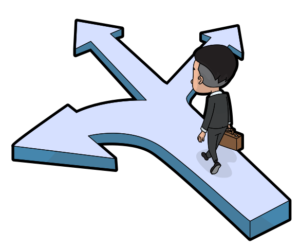 We all need joy. That's something everyone can agree with. Even though we live in a sad and broken world, we would all like to find a happiness that is unaffected by bad circumstances. The Bible agrees with that, too. One of the greatest promises from the Bible is found in Psalm 16:11, "… In [God's] presence is fullness of joy; In Your right hand there are pleasures forever." That isn't just talking about eternity. We can have some of that now.
We are all longing for joy and pleasure, but how do we get there? In Psalm 16 in the Bible, King David shows us how to get on the path that leads to gladness and contentment. Take a couple of minutes with me to explore this pathway to joy in Psalm 16.
In order to follow the right path, Psalm 16 makes clear that first we must find it. As motivational speaker Stephen R. Covey famously put it, "If the ladder is not leaning against the right wall, every step we take just gets us to the wrong place faster."
That's why David begins by pointing to the right path: "Preserve me, O God, for I take refuge in You" (Psalm 16:1). To get on God's path to joy, we must first admit that our life began on the wrong path. The Bible says, "All have sinned and fall[en] short of the glory of God" (Romans 3:23).
By the way, you can know that you are going down the right path if your heart resonates with David when he cried out: "You are my Lord; I have no good besides You" (Psalm 16:2).
By nature, we follow the wrong path. God says, "All of us like sheep have gone astray, each of us has turned to his own way…." (Isaiah 53:6). That truth is not flattering but denying it won't make it go away. British pastor Charles Spurgeon put it this way, "You will never know the fullness of Christ until you know the emptiness of everything but Christ."
When we compare ourselves to God's perfect and eternal holiness, instead of comparing ourselves to other people (see II Corinthians 10:12), we must see that we have failed to live up to the perfect standard that God requires. God's standard of holiness is absolute. In fact, it is a command: "Like the Holy One who called you, be holy yourselves also in all your behavior; because it is written, 'You shall be holy, for I am holy'" (1 Peter 1:15–16).
Since God knew we could never find Him on our own, He created the pathway for us. When you realize your own failure and weakness, you've started down God's pathway. Be encouraged! Joy is just around the corner!
Even though we can't be good enough for God, He has made a way to freely give us His goodness. That is why Jesus came. He is the One who brings great joy! "I will rejoice greatly in the Lord, my soul will exult in my God; For He has clothed me with garments of salvation, He has wrapped me with a robe of righteousness…." (Isaiah 61:10).
This gift of God's righteousness is given to us when we trust what Jesus did to purchase it for us on the Cross. The Apostle Paul knew that he would "be found in [God], not having a righteousness of my own derived from the Law, but that which is through faith in Christ, the righteousness which comes from God on the basis of faith" (Philippians 3:9).
Psalm 16 ends with the result of following God's path: "The Lord is the portion of my inheritance and my cup; You support my lot… I have set the Lord continually before me; Because He is at my right hand, I will not be shaken. Therefore, my heart is glad and my glory rejoices…." (Psalm 16:5, 8–9).
This is a promise that can belong to you!