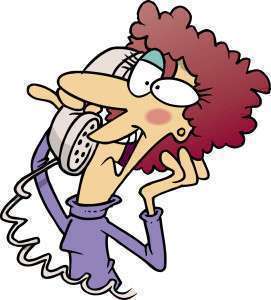 We have all met someone who seems to talk non-stop. That person may be really nice, but they talk so much that it's hard to get a word in edgewise. When they start talking, we try to be polite by listening (or at least by looking like we are listening!), but it can be hard to keep paying attention as they talk on and on
   This may sound strange, but it is also possible to be too talkative with God. Let me explain.
   When I meet people for the first time and ask them about their faith, they often respond by saying, "Oh, I pray all the time." Now prayer is good, if we have come to know God personally through Jesus Christ. Although you may never have thought of it this way before, prayer is only half of a conversation. It is possible to talk to God without ever stopping long enough to find out what He has to say to us.
   It just doesn't seem right to expect God to listen to us anytime we feel like talking to Him, and yet consistently ignore what He has said to us. He has preserved His truth through the ages in a magnificent, holy book, the Bible, and yet some of these constant talkers don't put much (or any) effort into finding out what it says. God went through a lot of trouble so He could speak to us through the Bible. The truth is we have a lot to learn. "How sweet are Your
[God's]
words to my taste! Yes, sweeter than honey to my mouth! From Your precepts I get understanding; therefore I hate every false way. Your word is a lamp to my feet and a light to my path
" (Psalm 119:103–105).
   Let me share some things that we need to learn from the Bible.
   We must find out what God is like from what He tells us in the Bible. If we don't embrace the Bible's explanation of Who God is, we are just worshiping something from our own imagination.
   God revealed a lot about Himself to the great prophet Daniel, for example, when he said "Let the name of God be blessed forever and ever, for wisdom and power belong to Him. It is He who changes the times and the epochs; He removes kings and establishes kings; He gives wisdom to wise men and knowledge to men of understanding. It is He who reveals the profound and hidden things; He knows what is in the darkness, and the light dwells with Him" (Daniel 2:20–22).
   We also learn from the Bible that eternal life is only found in a relationship with Jesus Christ. "This is eternal life, that they may know You, the only true God, and Jesus Christ whom You have sent" (John 17:3). "Blessed be the God and Father of our Lord Jesus Christ, who according to His great mercy has caused us to be born again to a living hope through the resurrection of Jesus Christ from the dead" (1 Peter 1:3).
   There are many other benefits of Bible study. Here are a couple more:
   Getting to know God helps us to be more peaceful and content. "Grace and peace be multiplied to you in the knowledge of God and of Jesus our Lord; seeing that His divine power has granted to us everything pertaining to life and godliness, through the true knowledge of Him who called us by His own glory and excellence" (2 Peter 1:2–3).
   The Bible also helps us to make good decisions. "Trust in the Lord with all your heart and do not lean on your own understanding. In all your ways acknowledge Him, and He will make your paths straight" (Proverbs 3:5–6).
   There are many wonderful things to be discovered in the Bible, but we won't seek them out until we humbly admit our need to learn. God "gives a greater grace. Therefore it says, 'God is opposed to the proud, but gives grace to the HUMBLE' Submit therefore to God. …Draw near to God and He will draw near to you…." (James 4:6-7, 8).
   By all means, talk to God, but make sure you also listen to Him. Let God talk to you through His Word. Contact me with any questions you have about the Bible, and I will do my best to point you to the answers.
When the child of God
Looks into the Word of God
And sees the Son of God
He is changed by the Spirit of God
Into the image of God
For the glory of God.
Dr. Warren Wiersbe