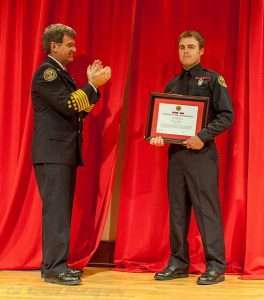 Maybe you saw a recent local news story where four firemen were given special awards for valor because they rescued a woman from a burning building. Did you happen to attend the ceremony? Yeah, neither did I. I was glad to watch the thirty seconds (or so) of coverage on the evening TV news, but I didn't go to the ceremony.
Why didn't you or I attend the ceremony? I guess it's because the rescue didn't involve either of us personally. That got me to thinking. What if that event WAS personal?
Let's use our imaginations for a moment so we can picture what it would be like for a rescue to be personal.
It's late at night and you are home alone and fast asleep in your second-floor bedroom. Suddenly, the smell of smoke wakes you up. It takes a minute to clear your head, but then you realize that your house is indeed on fire. You jump out of bed and put your hand on your bedroom door. It is really hot. You aren't going to get out that way.
You run over to your window, and it is jammed. Try as hard as you can, it won't open. Now you begin to panic. You realize you might not make it. Then, in the distance, you hear sirens gradually getting louder. A neighbor must have called the fire department. Now there is hope that they may find you in time.
Your room begins to fill with smoke. You lie on the floor because that is the only place where you can breathe. Again, you begin to wonder if you are going to die because there is little breathable air left. It doesn't look like the firemen will find you in time.
Just when hope is almost all gone, you hear a loud, husky voice cry out, "Is anyone up here?" You muster all the strength you have and scream "I'm in here!!" A moment later a big, burly fireman busts down your door, gives you an oxygen mask and carries you downstairs and out the front door to safety. You are shaken, but unhurt.
A month later a city official contacts you about a special ceremony that is being planned to honor that fireman who saved your life. You won't want to just watch that ceremony on TV! You will certainly want to attend it in person so you can thank that firefighter who saved your life.
See the difference? The first ceremony I mentioned was touching. The one we imagined together, on the other hand, would be very, very emotional because it was YOUR life that was saved.
Do you claim to follow Jesus? Even though you think you're on the right path, does your religious life often feel routine and maybe even boring? There may be a connection between that problem and the story we just imagined.
How did your religious life begin? Do you just go to church because that's what is expected of you? Did you ever realize the terrible situation you were in? Like my story about being trapped by a dangerous fire, did you ever fully understand that you were trapped by your own sin with no way to free yourself.
In fact, the Bible says that we all came into this world without any spiritual life at all: "And you were dead in your trespasses and sins" (Ephesians 2:1).
Here is where the really good news comes in. Jesus came to this earth and lived a perfect life. Then he died to pay the penalty our sin deserves so we can be rescued from eternal deadness. "But God, being rich in mercy, because of His great love with which He loved us, even when we were dead in our transgressions, made us alive together with Christ, by grace you have been saved" (Ephesians 2:4–5).
When we know that God has graciously rescued us, then our hearts are filled with joy and gratitude. Worship becomes deeply meaningful, even exciting. We become so in love with Jesus that we long for every opportunity to give Him praise and worship.
Take a minute to think about the following words from the Bible. I hope they reflect what is in your heart: "For while we were still helpless, at the right time Christ died for the ungodly. For one will hardly die for a righteous man; though perhaps for the good man someone would dare even to die. But God demonstrates His own love toward us, in that while we were yet sinners, Christ died for us. Much more then, having now been justified by His blood, we shall be saved from the wrath of God through Him…. not only this, but we also exult in God through our Lord Jesus Christ, through whom we have now received the reconciliation" (Romans 5:6-9, 11).