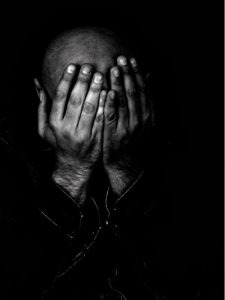 That is a huge question, and it deserves an answer that is helpful and clear. We need more than just an answer, though, don't we? We need help! But before we can get to talking about all that, we must go back and discover what started all this misery.
God created this world as a beautiful, perfect place. In fact, He also created our first two parents as completely flawless human beings. They had everything they could ever need—abundant food, perfect health, a beautiful environment, and a perfect relationship with each other (no marriage conflicts, yeah!). They even had wonderful, open and unhindered communication with their Creator, the God who had made them (see Genesis 1:27-31; 2:9; & 3:8).
So, what went wrong?
In spite of all that God had given them, Adam and Eve wanted more. Those desires led them to believe the lie that they could become their own gods (i.e. be in charge) if they just disobeyed the Creator. They even ignored God's warning that their disobedience would bring death into the world. See Genesis 2:16-17 & 3:1-7.
Although Adam and Eve started this mess, sadly, we have all followed their example. The "I choose my way instead of God's way" attitude is everywhere in the human race. That is why the Bible says, "Therefore, just as through one man [Adam] sin entered into the world, and death through sin, and so death spread to all men, because all sinned" (Romans 5:12).
We like that feeling of being in charge, but that is not why God made us. God created us to depend on Him and to fellowship with Him. That is why we exist.
Jesus made our reason for living very clear when He said, "You shall love the Lord your God with all your heart, and with all your soul, and with all your mind" (Matthew 22:37). Notice what the worshipers around God's throne are saying, "Worthy are You, our Lord and our God, to receive glory and honor and power; for You created all things, and because of Your will [not my will or yours!] they existed, and were created" (Revelation 4:11).
I know what some of you may be thinking: "Well if God knew that Adam and Eve's disobedience would result in so much suffering, why didn't He stop them from disobeying?" Think about it this way. Having the choice to obey or disobey gave our first parents an opportunity to express genuine affection for the One who had made them and had so generously provided for them. They failed to do that, and so have we.
All is not lost, though! Jesus has given us a second chance to express our affection for the One who made us. He never sinned. Death had no claim on Him, but He died willingly for us. He suffered God's wrath that we deserve. "God demonstrates His own love toward us, in that while we were yet sinners, Christ died for us" (Romans 5:8). "For as in Adam all die, so also in Christ all will be made alive" (1 Corinthians 15:22).
Keep in mind that God allowed suffering in this world, knowing that Jesus would suffer more than any of us. Not only was Christ's physical suffering extraordinarily painful, but when our sin was placed on Him, Jesus had to endure the agony of being separated from His Father God for over three hours.
The life, death, and resurrection of Jesus Christ make it possible for us to have three amazing benefits. This is the help we so desperately need.
First, Jesus purchased our full and free forgiveness on the Cross, "For the wages of sin is death, but the free gift of God is eternal life in Christ Jesus our Lord" (Romans 6:23).
Secondly, faith in Christ also restores the intimate relationship that God originally intended for us to have with Him. "For Christ also died for sins once for all, the just for the unjust, so that He might bring us to God, having been put to death in the flesh, but made alive in the spirit" (1 Peter 3:18).
Thirdly, we can now see the big picture. We can know right now (see Romans 8:1&16) that believers have an eternity ahead of them where God "will wipe away every tear from their eyes; and there will no longer be any death; there will no longer be any mourning, or crying, or pain; the first things have passed away" (Revelation 21:4).
That's why the Apostle Paul (who had personally experienced a lot of suffering) could say, "I consider that the sufferings of this present time are not worthy to be compared with the glory that is to be revealed to us" (Romans 8:18).