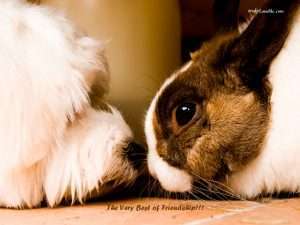 Have you found this to be true: good friends are rare, especially when life gets really tough? From time to time, a person who we thought was our friend winds up disappointing us deeply.
Pepper Rodgers knew that feeling. In the early 1970's, he was the head football coach at UCLA. One particular year his team was suffering through a humiliating season. Pepper Rodgers was criticized by angry fans, disappointed alumni – almost everyone – for his team's losing record. He felt alone and abandoned by all of his friends. Later he looked back on that year and said, "My dog was my only true friend. I told my wife that every man needs at least two good friends – and she bought me another dog." We smile, but we know the feeling.
Even wealthy people struggle to have genuine friends. They can be very lonely. When Howard Hughes was worth about 4 billion dollars, he said, "I'd give it all for one good friend."
What makes a good friend? Why are they so hard to find?
I think you will agree that a good friend is someone who knows all about you and sticks by you anyway. The Bible says: "A friend loves at all times" (Proverbs 17:17). We all long to have someone who is willing to continue loving us no matter what.
Here is part of our problem. Everyone longs for someone to be their best friend. Think about it. We all tend to want a friend even more than we are willing to be a friend. Maybe that helps to explain the lack of good friends. Who is left to be the good friend, if most of us are focused on wanting a good friend? The Bible nails this problem when it said: "All of us like sheep have gone astray, each of us has turned to his own way" (Isaiah 53:6). Our self-focus not only keeps us from having really good friends, but it also keeps us from being a good friend as well.
Thankfully, God has a solution. In fact, He is the solution. He doesn't want us to be lonely. To make sure that our need for friendship can always be met, God offers to be our best friend Himself. It may sound strange to have God as your best friend, but it can happen. I know this is true because of what Jesus said, and because I experience it myself every day.
Jesus made this amazing promise to His followers: "Greater love has no one than this, that one lay down his life for his friends. You are My friends if you do what I command you. No longer do I call you slaves, for the slave does not know what his master is doing; but I have called you friends, for all things that I have heard from My Father I have made known to you" (John 15:13-15).
Have you ever thought about the possibility that God, your Creator, can actually be your personal friend? What God felt for the people of Israel He also feels for us: "I have loved you with an everlasting love; therefore I have drawn you with lovingkindness" (Jeremiah 31:3).
Jesus is the One who cleared the way so that we could have an intimate friendship with the eternal God. He did that when He selflessly paid the awful price for our sin that God's holy nature requires. "For even the Son of Man did not come to be served, but to serve, and to give His life a ransom for many" (Mark 10:45). A friendship with God begins when put our full trust in that ransom. "You, Lord, are good, and ready to forgive, and abundant in lovingkindness to all who call upon You" (Psalm 86:5).
But wait, that's not all! (Now I sound like an infomercial.) When Christ, who died for our sins, becomes our friend, He then enables us to love others around us like we never could before. "Now for this very reason also, applying all diligence, in your faith supply . . .  godliness, and in your godliness, brotherly kindness, and in your brotherly kindness, love.  For if these qualities are yours and are increasing, they render you neither useless nor unfruitful in the true knowledge of our Lord Jesus Christ" (2 Peter 1:5-8).
Genuine Christians can experience loving friendships every time they get together. That is one of the reasons we enjoy being together here at Bethel Chapel Church. Every week we meet because we want to know more about Christ's love – and that leads us to love each other all the more. In fact, Jesus said that the way Christians treat each other will either prove or disprove their claim that they love Him. "By this all men will know that you are My disciples, if you have love for one another" (John 13:35).
I hope you have good friends. More importantly, I hope you have an eternal friendship with the Eternal God. If you would like to learn more about how Jesus Christ can be your best friend, drop me a note or leave a question below.