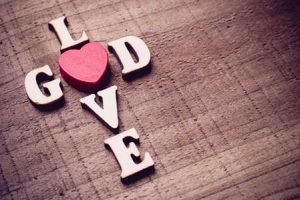 Is it possible to know, not only that God exists, but also that He loves you? God is invisible, after all, and He doesn't usually speak with words we can hear with our ears. If you think about it, there is no guarantee that God loves us just because that's what we would like to believe. The same would be true about our own claim that we love God.
Here is the problem. Just convincing ourselves of something doesn't make it true. At one time it was popular to believe that the world was flat. Now we know that isn't true. How can we know for certain that God does exist and that He will love us when we stand before Him?
I am sure that it's possible to know for sure that God loves you and that you really love Him. This isn't a trivial issue because all of eternity hangs on it. A relationship with Christ is much more than just an occasional religious pit stop, like going to church. Instead, it is a miracle where God turns you around and points you in a completely new direction. The Bible calls it being born again (John 3:1-21). It changes everything.
If you want to know right now, beyond any shadow of a doubt, that you and God have a loving relationship, here is a test we all can apply to ourselves.
When a person has a relationship with God:
#1. They gradually experience more and more personal peace. "Be anxious for nothing, but in everything by prayer and supplication with thanksgiving let your requests be made known to God. And the peace of God, which surpasses all comprehension, will guard your hearts and your minds in Christ Jesus" (Philippians 4:6–7).
#2. They trust in God's goodness, not their own. They are "found in Him, not having a righteousness of [their] own derived from the Law, but that which is through faith in Christ, the righteousness which comes from God on the basis of faith" (Philippians 3:9).
#3. The more they know about God, the more they want to know. "As the deer pants for the water brooks, so my soul pants for You, O God. My soul thirsts for God, for the living God; When shall I come and appear before God?" (Psalm 42:1–2). Jesus worded it this way, "Blessed are those who hunger and thirst for righteousness, for they shall be satisfied" (Matthew 5:6).
#4. They will experience God's help when they need it the most. "Therefore, let us draw near with confidence to the throne of grace, so that we may receive mercy and find grace to help in time of need" (Hebrews 4:16).
#5. They love spending time with other believers. "Beloved, let us love one another, for love is from God; and everyone who loves is born of God and knows God… Beloved, if God so loved us, we also ought to love one another. No one has seen God at any time; if we love one another, God abides in us, and His love is perfected in us" (1 John 4:7, 11–12).
I could never write about all the ways a relationship with God will change a person. The list above is a start, though. Are those things true about you? How did you do on this short test?
Feel free to contact me if you have other questions, or would like help moving toward God. Yes, oh yes, it will make an amazing difference in your life!