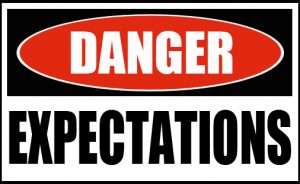 Have you ever noticed that our experiences don't often measure up to our expectations?
Maybe something like this has happened to you. You haven't been feeling very well, so you eventually make an appointment to see a doctor. Because of your past experiences, you expect that the doctor will ask you some questions, examine you, and then write out a prescription. Not this time! Instead of writing out a prescription, the doctor tells you to make an appointment with a surgeon because you need surgery. Wow! That is not what you expected. So, do you make an appointment with the surgeon?
Here is another example. What do we generally expect from a close relationship? It often goes something like this: we finally meet that special someone who is fun to be around and who seems to really care about us. That leads us to some common expectations. We begin to look forward to a meaningful and fulfilling life without any more loneliness. You know what usually comes next. Reality sets in as we discover that the other person also has expectations of us, too. We find some (or even a lot?) of those expectations to be very unrealistic. So, do you end the relationship?
Did you know that when Jesus was here on earth, a lot of people had unrealistic expectations of Him, too?
We read in Matthew, Chapter 8, that Jesus healed a man of leprosy, which was an incurable disease. Then Jesus healed a Roman centurion's paralyzed slave, without even seeing the young man, no less. He then healed Peter's mother-in-law of a high fever.
Here was a Man who could do anything! Not only did Jesus heal everyone who came to Him, but He provided a free lunch for thousands of people (Matthew 14:13-21) and even walked on water (Matthew 14:22-33). People began to think He could be a free ticket to whatever they wanted Him to do.
Those expectations prompted three different people to volunteer to follow Jesus (Matthew 8:18-22 & Luke 9:61-62). Their promises to follow Jesus sounded good, but Jesus wasn't impressed. He knew they had unrealistic expectations about what following Him would be like.
Jesus told the first volunteer that following Him meant not having a guaranteed place to sleep every night. We never hear from that man again. The next volunteer wanted to wait until he received his inheritance. We never hear from him again, either. Jesus told the third volunteer, who first wanted to go home and tie up some loose ends, that "No one, after putting his hand to the plow and looking back, is fit for the kingdom of God" (Luke 9:62). In other words, Jesus, the One who can do anything, demands a full commitment from His followers. These three volunteers only expected that Jesus would make their lives better, and fit in with their plans.
We often have unrealistic expectations of God, too. We expect that we can go to Him when it is convenient or when we have problems. We expect Him to be satisfied when we give Him a small part of our lives. Look closely at what Jesus said He expects of His followers: "If anyone wishes to come after Me, he must deny himself, and take up his cross daily
[that means loving Him enough to be willing to die for Him]
and follow Me. For whoever wishes to save his life will lose it, but whoever loses his life for My sake, he is the one who will save it. For what is a man profited if he gains the whole world, and loses or forfeits himself?
" (Luke 9:23–25).
Jesus will never be satisfied with halfway followers. You need to put your unrealistic expectations of Him aside and listen to what He says. Perhaps you are planning to get serious about Him someday or find out more about Him when you're closer to the end of your life.
Don't wait! You don't know how much more time you have. The Bible says, "Yet you do not know what your life will be like tomorrow. You are just a vapor that appears for a little while and then vanishes away" (James 4:14).
Now is the time to put aside your own faulty expectations, to pick up your Bible and find out why God is worthy of your whole-hearted commitment. The book of John would be a good place to start. By reading God's Word you can find out for yourself who Jesus is, why He came to this world, and what He has done for you.
Here is a spoiler alert from the last book of the Bible. The Apostle John saw a vision of what goes on in heaven and heard these words: "'Worthy is the Lamb [Jesus] that was slain to receive power and riches and wisdom and might and honor and glory and blessing.' And every created thing which is in heaven and on the earth and under the earth and on the sea, and all things in them, I heard saying, 'To Him who sits on the throne, and to the Lamb, be blessing and honor and glory and dominion forever and ever'" (Revelation 5:12–13).
When our expectations are wrong, we are the ones who have to change.
Will you make that appointment with a surgeon? If you trust that your doctor knows best, you will.
Will you end a relationship because it is more trouble than you thought it would be? Not if you are really committed to that person.
Will you follow Jesus even though He expects you to be willing to give up everything else for Him? I hope so!