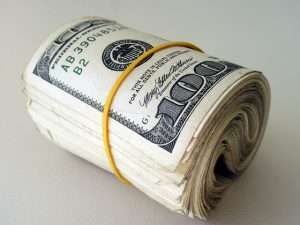 Every time we give our cash, or our check, or our credit card for something, we do it because that thing we want is more valuable to us than the money we are giving up. Most of us do this almost every day.
Sometimes, on the other hand, we are forced to give up something that is valuable to us. Being the victim of a robbery would be an example, but there are other things we have to let go of–like when we lose our health or when a loved one passes or when we are faced with losing our own lives.
My many years of serving as a pastor and as a hospital chaplain have probably given me more contact with the sick and dying than the average person has. My experience teaches me that when someone is faced with a potentially fatal disease, often their biggest regret is that they may miss a wedding, or the joy of being with their spouse, or children, or friends, or of watching their grandchildren grow up—or some other cherished experience.
I get that. Our life here on earth is the only one we have ever experienced, and our nature is to cling to what has been most dear to us.
With that in mind, how could the Apostle Paul write these words from a Roman dungeon? "For to me, to live is Christ and to die is gain. But if I am to live on in the flesh, this will mean fruitful labor for me; and I do not know which to choose. But I am hard-pressed from both directions, having the desire to depart and be with Christ, for that is very much better" (Philippians 1:21–23).
Paul was willing to stay here in this life and continue serving Christ (even though it was hard), but he really preferred to leave so he could be with Christ. How could he say that? Is it possible to actually look forward to leaving everything familiar and to leaving everybody we care about behind?
Jesus answers those questions in Matthew 6:20–21: "Store up for yourselves treasures in heaven, where neither moth nor rust destroys, and where thieves do not break in or steal; for where your treasure is, there your heart will be also." The question is, What do we treasure more than anything else? Is it the things around us in this world and the relationships we have here, or is it Jesus Christ who is in heaven?
Why should we treasure Jesus Christ above everything else and everybody else in this life?
Here are some reasons.
Jesus is worth more because He created everything.
"For by

[Jesus] all things were created, both in the heavens and on earth, visible and invisible, whether thrones or dominions or rulers or authorities—

all things have been created through Him and for Him

" (Colossians 1:16).

Jesus is worth more because He possesses all glory.

"[Jesus] is the radiance of [God's] glory and the exact representation of [God's] nature, and upholds all things by the word of His power. When He had made purification of sins, He sat down at the right hand of the Majesty on high" (Hebrews 1:3). Jesus is the One "… who is holy, who is true…" (Revelation 3:7).

Jesus is worth more because He wants His followers to experience all of His glory.

Jesus prayed to His Father that He wanted His followers to "… be with Me where I am, so that they may see My glory which You have given Me, for You loved Me before the foundation of the world" (John 17:24). Paul said that being with Jesus is "… an eternal weight of glory far beyond all comparison" (2 Corinthians 4:17).

Jesus is worth more because He suffered in our place.

Jesus suffered on the Cross for His followers. We needed Jesus to do that because we all have a huge sin debt: "There is none righteous, not even one; there is none who understands, there is none who seeks for God; all have turned aside, together they have become useless; there is none who does good,[compared to God] there is not even one" (Romans 3:10–12). Jesus took the hell we deserve, or as Paul put it "For you know the grace of our Lord Jesus Christ, that though He was rich, yet for your sake He became poor, so that you through His poverty might become rich" (2 Corinthians 8:9).

I could go on, but the point I am making is that nothing in this world compares to what it is worth to be forgiven and to be embraced by Jesus. "He who did not spare His own Son, but delivered Him over for us all, how will He not also with Him freely give us all things? … For I am convinced that neither death, nor life, nor angels, nor principalities, nor things present, nor things to come, nor powers, nor height, nor depth, nor any other created thing, will be able to separate us from the love of God, which is in Christ Jesus our Lord" (Romans 8:32, 38–39).

Jesus is infinitely valuable. Even the good things of this life pale when we compare them to what Jesus is worth. "For what will it profit a man if he gains the whole world and forfeits his soul? Or what will a man give in exchange for his soul?" (Matthew 16:26).