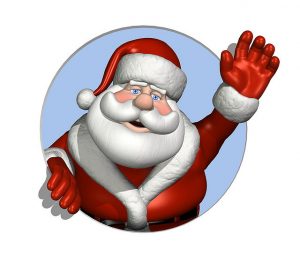 Another Christmas season is here, and I must confess to having some mixed feelings about it. On the one hand, I find great joy in celebrating the time when the King of kings and the Creator of everything was willing to take on human form. As the God-man He could go to the Cross and endure the suffering that all of us sinners deserve. That is why so many of our Christmas songs ring out with GLORIA and HALLELUJAH!
On the other hand, there are some things about the Christmas season that I don't look forward to.
I may be in the minority here, but I struggle with continuously hearing the same four or five Christmas songs everywhere I go. They are usually songs that have nothing to do with Christ. Some stores even begin playing them in mid-November.
Also, I really have a problem with what is taught by many about Santa Claus. I know that it's cute when small children get all excited about Santa Claus coming on Christmas Eve, but I fear that he has become a cheap substitute for Jesus Christ, even for many who are long past childhood. It seems that our culture treats Jesus like He is a type of Santa Claus. They like talking about a loving Jesus, even though they don't know Him or even truly believe that He is real.
Notice that Jesus and Santa Claus are often pictured as just "nice guys"–who exist to give us whatever we ask for as long as we are good. We even sing about a Santa Claus who is all-knowing. How many times have you heard that Santa Claus, "sees you when you're sleeping, he knows when you're awake, he knows if you've been bad or good, so be good for goodness sake"? Need I remind you that only God, not Santa Claus, knows those things?
It is also customary to talk about Santa Claus once a year, and then to ignore him the rest of the year. Isn't that how Jesus is often treated? Many people who consider themselves religious only think about Jesus for an hour a week, and then have no problem ignoring Him the rest of the time.
OK, now that I've gotten that off my chest, it's worth reminding ourselves what we do know is true about the Christ of Christmas. The Bible clearly states that "God, after He spoke long ago to the fathers in the prophets in many portions and in many ways, in these last days has spoken to us in His Son, whom He appointed heir of all things, through whom also He made the world. And He is the radiance of His glory and the exact representation of His nature and upholds all things by the word of His power. When He had made purification of sins, He sat down at the right hand of the Majesty on high" (Hebrews 1:1–3).
We exalt and talk about Jesus Christ here at Bethel Chapel Church all year long, and we love doing it! If your heart resonates with that, or if you are just interested in learning more about the Christ of Christmas, please come and join us. I know we will make you feel welcome.
In spite of some misgivings I may have about how the world celebrates Christmas, I still enjoy this time of year immensely. For the best of all reasons, this is a special season for rejoicing.
From my family to yours, I am wishing all of you a very merry, Christ-centered Christmas!