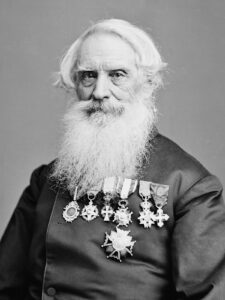 The Bible is an amazing book. There are many reasons why the Bible not only remains the world's best-seller, but is also distributed more widely than any other book. One of the marvels of the Bible is that it often shocks us with a truth that is the exact opposite of what we would expect.
Let's look at one example: self-confidence. I want to share what our culture says about the importance of being self-confident, and then I'll show you what the Bible says about it. Lastly, I want to tell you about a real-life example of what biblical self-confidence looks like. Be prepared for a shock. Maybe you should sit down.
First, what is the common wisdom we often hear about self-confidence?
This quote comes from a typical article. It was published by the counseling center of the University of South Florida. "Self-confidence is an attitude about your skills and abilities. It means you accept and trust yourself and have a sense of control in your life. You know your strengths and weaknesses well and have a positive view of yourself. You set realistic expectations and goals, communicate assertively, and can handle criticism…. How To Increase Your Self-Confidence: Recognize and emphasize your strengths. Reward and praise yourself for your efforts and progress…." [https://is.gd/CVdmSr]
In other words, emotionally healthy people trust in themselves because they feel that they are in control. They think well of themselves and talk boldly. Many counselors say that you grow in self-confidence by telling yourself how good you are.
Nothing I've said so far is too shocking. The world admires those who are decisive and self-confident.
Now comes the Bible's completely opposite view. God's Word says it's a good thing to begin with a low view of yourself. For example, the great Apostle Paul declared, "For I know that nothing good dwells in me, that is, in my flesh; for the willing is present in me, but the doing of the good is not" (Romans 7:18).
When God allowed something very hurtful into his life, Paul learned that "… power is perfected in weakness… Therefore, I am well content with weaknesses, with insults, with distresses, with persecutions, with difficulties, for Christ's sake; for when I am weak, then I am strong" (2 Corinthians 12:9–10).
In other words, the way up is the way down. It's not that the Lord wants us to grovel in our weaknesses, but He does show us that we need not deny our failures and shortcomings. Losing confidence in ourselves is the path that leads to an unshakable confidence in Almighty God Himself. The same Apostle Paul who I quoted above talking about his sinfulness and weaknesses said, "I can do all things through [Christ] who strengthens me" (Philippians 4:13). He was a very confident person who depended fully on his Savior.
When we humbly admit that we are undeserving sinners in need of the Lord's offer of forgiveness, He will embrace us (see John 6:37).  When that happens, He will "… always leads us in triumph in Christ…." (2 Corinthians 2:14).
Samuel Morse, the inventor of the telegraph and of Morse Code, is a good example of a person who lived a God-confident life.
One day a friend said to him, "Professor Morse, when you were doing your experiments, did you ever come to a place of not knowing what to do next?"
"More than once," Morse replied, "and whenever I could not see my way clearly, I knelt down and prayed to God for light and understanding." Then Samuel Morse added, "When flattering honors came to me from America and Europe on account of the invention which bears my name, I never felt I deserved them. I had made a valuable application of electricity, not because I was superior to other men, but solely because God, who meant it for mankind, must reveal it to someone, and was pleased to reveal it to me."
In May 1844, Morse himself sent the first message over the telegraph. It was sent between Washington D.C. and Baltimore, and he quoted from Numbers 23:23: "What hath God wrought!"  A modern translation of that same verse reads, "What great things God has done!"
This world teaches us that the power to be confident comes from within each of us. Followers of Jesus Christ believe differently. We are "strengthened with all power, according to [God's] glorious might, for the attaining of all steadfastness and patience; joyously giving thanks to the Father, who has qualified us to share in the inheritance of the saints in Light" (Colossians 1:11–12).
A lack of confidence in yourself can be a particularly good thing if instead, you've put your confidence in Jesus Christ the Lord.