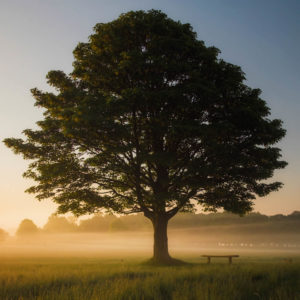 Have you ever met someone who has been badly mistreated, and yet continues to display a calm, unflinching faith in God's goodness? Perhaps you even secretly wished that you had that kind of faith.
A similar situation happened to the Apostles in Luke, Chapter 17.
It all started when Jesus said (in Luke 17:3-4) that they were to forgive a person who hurt them every time that person came back and asked for forgiveness–even if it happened as many as seven times in one day. The Apostles were blown away. We can understand their concerns. If someone offended us seven times in one day, we would be hard-pressed to forgive too. I'm sure we couldn't do it in our own strength. We would feel so hurt that we know we wouldn't be able to forgive them sincerely that many times.
Since the Apostles had learned that when Jesus gave a command it wasn't up for debate, in the next verse, they asked Him to "Increase our faith!" It's as if they said, "Jesus, that's impossible. We can't do that." They figured that in order to do an impossible task like that, they would need a great amount of faith. They knew they didn't have it.
The answer that Jesus gave them must have been puzzling. He said they only needed faith that was as big as a mustard seed.
What do we know about mustard seeds? We know at least three things:
#1. They are so small that they are very hard to see with the naked eye.
#2. They are made by God.
#3. Even as small as they are, they have great potential. In Luke 13:19 Jesus mentioned that a mustard plant can grow big enough for birds to make their nests in its branches.
Jesus is making the point that our small faith is not the main problem. Small faith can grow and become mighty. What matters is not the SIZE of our faith, but the SOURCE of our faith. Where does our faith come from?
When we see our faith as something that comes from inside of ourselves, we can't help but worry about it. We know how weak our own faith is. When we, or people we love, are hurt or injured, we struggle to trust in God's goodness.
On the other hand, when we know that our faith is a gift that we receive from Almighty God, it gives us great confidence. God offers life-changing faith to everyone who turns from their own way and puts their trust in Jesus. "This is eternal life, that they may know You, the only true God, and Jesus Christ whom You have sent" (John 17:3). "These things I have written to you who believe in the name of the Son of God, so that you may know that you have eternal life" (1 John 5:13).
God's gift of faith does NOT come all by itself. The faith that God gives comes with a list of new things. For example, mustard-seed faith brings a new desire to please God, a new power to stop sinning, a new purpose to bring glory to God, a new kinship with others who have the new birth, and of course, a new eternity with Christ to look forward to when this life ends. The faith that you need in order to deal with hurts from others comes from a new spiritual birth. The Bible calls it being born again (see John Chapter 3).
It is such a relief to know that saving faith doesn't come from us. That is why Paul said that faith is God's gift to us. I'm so glad that it isn't something we have to manufacture. "For by grace you have been saved through faith; and that not of yourselves, it is the gift of God; not as a result of works, so that no one may boast" (Ephesians 2:8–9).
If powerful faith is a gift that can only come from God, how can we make sure we have this gift, even though it starts out the size of a mustard seed?
God's Word is the answer. "How then will they call on Him in whom they have not believed? How will they believe in Him whom they have not heard?… So, faith comes from hearing, and hearing [from the words about] Christ" (Romans 10:14, 17).
Have you experienced the new birth? Turning from your sin and putting your trust in Christ may seem like a small thing, like a mustard seed, but it is more powerful than you can imagine. That is why the Apostle Paul wrote,  "For this reason we also constantly thank God that when you received the word of God which you heard from us, you accepted it not as the word of men, but for what it really is, the word of God, which also performs its work in you who believe" (1 Thessalonians 2:13).