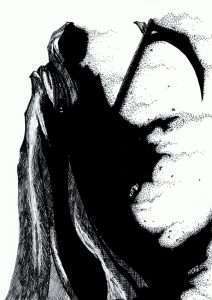 Over the years (and this shows that I'm getting old) I have watched while one social taboo after another has gone by the wayside. For example, when I was a boy, the married couples on TV shows didn't even sleep in the same bed! You can still see this in reruns of shows like "I Love Lucy" and "The Dick Vandyke Show." Compare that with what they show on TV today.
There is at least one taboo, though, that still remains in our culture. Death and eternity make us feel uncomfortable, so uncomfortable that we do everything we can to avoid mentioning them. When death is talked about, it is usually described as something that is a normal, natural part of life. We often don't even say someone died. Instead, we say things like "they passed away" or "are asleep forever." Mortuaries and morgues are now called "Funeral Homes."
That may seem helpful at first, but upon reflection, it doesn't change the fact that our hearts continue to cry out against death. It contradicts everything we feel. We are born with an instinct to preserve life, not to see it end. We all have plans and hopes and dreams that death can cut cruelly short. No amount of re-naming can make death into a friend. Death is our enemy.
This is true because death is NOT the natural or normal way that God created us or the world around us. We long for life.
The Bible boldly says out loud what we all feel about death, even as believers in Christ … "we ourselves groan within ourselves, waiting eagerly for our adoption as sons, the redemption of our body" (Romans 8:23). "For indeed in this house we groan, longing to be clothed with our dwelling from heaven, … For indeed while we are in this tent, we groan, being burdened, because we do not want to be unclothed but to be clothed, so that what is mortal will be swallowed up by life" (2 Corinthians 5:2, 4).
What does the Bible teach us about death? Let's take a look:
Why does death exist?
 Rebellion against God ushered death into this world. God created Adam and Eve perfect and surrounded them with perfection. They had perfect bodies, a perfect environment, a perfect relationship with each other, and even a perfect, one-on-one relationship with their Creator.
Instead of valuing those undeserved gifts, they believed the lie that God wasn't being good enough to them. They wanted to dethrone God and become their own gods. They thought they could disobey the rules that their generous Maker had set out for them.
"Therefore, just as through one man sin entered into the world, and death through sin, and so death spread to all men, because all sinned" (Romans 5:12).
What does death do to us?
Physical death makes life on earth uncertain. "… All flesh is grass, and all its loveliness is like the flower of the field. The grass withers, the flower fades, when the breath of the Lord blows upon it; surely the people are grass. The grass withers, the flower fades, but the word of our God stands forever" (Isaiah 40:6–8).
"Yet you do not know what your life will be like tomorrow. You are just a vapor that appears for a little while and then vanishes away" (James 4:14).
What did God do about death?
Jesus defeated the finality of death by suffering death for us. "But now Christ has been raised from the dead, the first fruits of those who are asleep. For since by a man came death, by a man also came the resurrection of the dead. For as in Adam all die, so also in Christ all will be made alive" (1 Corinthians 15:20–22).
Jesus "has saved us and called us with a holy calling, not according to our works, but according to His own purpose and grace which was granted us in Christ Jesus from all eternity  but now has been revealed by the appearing of our Savior Christ Jesus, who abolished death and brought life and immortality to light through the gospel" (2 Timothy 1:9–10).
How does death affect a believer?
Death for a believer restores the relationship with God that God originally intended for us to have with Him from the very beginning.
There is joy in the midst of death for Christians, because it means being with Jesus, the One they love above all others. "We are of good courage, I say, and prefer rather to be absent from the body and to be at home with the Lord" (2 Corinthians 5:8).
In one sense Christians have a"… desire to depart and be with Christ, for that is very much better" (Philippians 1:23).
When will death be gone?
"The last enemy that will be abolished is death" (1 Corinthians 15:26).
When Jesus establishes His Kingdom here on earth, death will be forever removed. The Apostle John saw a day when, "… God is among men, and He will dwell among them,
[like He did with Adam and Eve in the Garden]
and they shall be His people, and God Himself will be among them,
and He will wipe away every tear from their eyes; and there will no longer be any death; there will no longer be any mourning, or crying, or pain; the first things have passed away." And He who sits on the throne said, 'Behold, I am making all things new.' And He said, 'Write, for these words are faithful and true'"
(Revelation 21:3–5).
Talking about death is not taboo for Christians. We can talk openly about it, in spite of the pain it causes. This is true because we are guaranteed an abundant life that is eternal. Jesus proved this truth to us when raised Himself from the dead.
"For as in Adam all die, so also in Christ all will be made alive" (1 Corinthians 15:22).
Have you surrendered your life to Christ? Are you enjoying the benefits of what He did to defeat death for you?