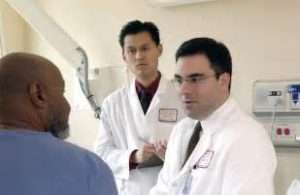 Imagine that you don't feel well so you go to the doctor in order to find out what is wrong. The doctor you see is friendly and kind. He tells you that you have nothing to worry about. He suggests you get more rest and take some vitamins. You are relieved. You leave his office feeling good about him and about your visit.
Unfortunately, you don't get any better. You decide to see another doctor and get a second opinion. This doctor comes right out and tells you some bad news. You have cancer. It has been caught early, though, and it can be cured. More sleep and vitamin pills aren't going to help. Extensive treatments must be started immediately.
Both these doctors have good reputations, but they have very different approaches to health care. The first one wanted you to feel happy and stress free, and he didn't mind taking a shortcut to help you feel that way. After you talked to the second doctor, though, you have realized that taking a shortcut to treating your cancer would be disastrous in the long run.
Last week I was talking about the danger of looking for shortcuts in the Christian life. Today I want to highlight another shortcut. This is one that Jesus Himself was tempted to take. Satan is the one who offered it to Him.
Jesus came to earth to "give His life a ransom for many" (Matthew 20:28) by dying a cruel and painful death that would pay the penalty for our sins. That seeming tragedy (the Cross) would ultimately lead to Christ being highly exalted, as the book of Philippians says: "Therefore God has highly exalted him and bestowed on him the name that is above every name" (Philippians 2:9).
Satan offered Jesus a way to skip the whole "Cross" thing and still be exalted. "Again, the devil took

[Jesus] to a very high mountain and showed Him all the kingdoms of the world and their glory; and he said to Him, 'All these things I will give You, if You fall down and worship me.' Then Jesus said to him, 'Go, Satan! For it is written, 'You shall worship the Lord your God, and serve Him only'

 "

(Matthew 4:8–10).

If Jesus had settled for a shortcut to His exaltation, where would we be? The plain truth is that we would have no hope of ever going to heaven because we would be lost in our sin. Forgiveness would not be available.

Christ's birth and death were all a part of God's loving plan that gives us a chance to regain the close relationship with Him that He originally intended for us to have. Because Jesus paid the penalty we deserved for our sins, we can come to God dressed in Christ's righteousness. Because of Jesus' death we can boldly say, "Who will bring a charge against God's elect? God is the one who justifies; who is the one who condemns? Christ Jesus is He who died, yes, rather who was raised, who is at the right hand of God, who also intercedes for us" (Romans 8:33–34).

There are no shortcuts to spiritual growth (as I talked about last week), and there is no shortcut to a genuine relationship with God Himself either. Working hard and trying to be good are not effective "because by the works of the Law no flesh will be justified in His sight…." (Romans 3:20). Our only hope is to be "justified as a gift by His grace through the redemption which is in Christ Jesus" (Romans 3:24).

Rejoice with me that Jesus refused to take any shortcuts. Because of that, His sacrificial death and perfect life are available to anyone who turns from sin and trusts in Him.  I hope you've done that. Don't count on any shortcuts to get you into heaven.