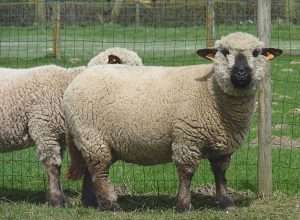 The 23rd Psalm is probably the best known passage of Scripture. It has doubtless been read at more funerals than any other quote from the Bible—and rightly so. The 23rd Psalm is beautiful and comforting. It mostly talks about how a shepherd tenderly cares for his sheep. These words may be familiar, but they never grow old:
"The Lord is my shepherd, I shall not want.
          He makes me lie down in green pastures;
          He leads me beside quiet waters.
          He restores my soul;
          He guides me in the paths of righteousness For His name's sake.
          Even though I walk through the valley of the shadow of death, I fear no evil, for You are with me; Your rod and Your staff, they comfort me" (Psalm 23:1–4).
The beauty of those words really comes to life, though, when we understand what sheep are like. In short they aren't very smart. Sheep have actually been known to nibble mindlessly at grass until they fall over a cliff! Dogs can often find their way home, but not sheep. When they wander away and get lost, they frequently can't even find their way home when the sheepfold is within sight! In blunt terms, they are dumb. By the way, you will never find sheep acts in the circus because they can't be trained.
Sheep are not only dumb, they are helpless. Webster's definition for "sheep" is interesting: "a timid and defenseless creature." Sheep don't learn from their mistakes. In fact they often repeat them. Now that is helpless. Sheep also drown easily. Their wool soaks up water and can weigh them down. If they fall and get turned onto their backs, they cannot get back up. They can only kick and bleat.
It's kind of amusing to think about sheep as being dumb and helpless. We may even laugh, but only until we realize that "sheep" are a metaphor for us! Oops! Why would God say that we need Him as our shepherd unless we were a lot like sheep?
Look again at the 23rd Psalm above. Notice that it is saying we can get so uptight that God has to make us relax ("He makes me lie down in green pastures"). Our priorities can get so mixed up that we'll try to find refreshment in the muddy waters of the world around us. God has to lead us to the "quiet waters" that are what we really need.
Our souls are so messed up that only God can breathe real life back into them: "He restores my soul." Paul explains that apart from Christ, the "good shepherd" (John 10:11), we are helpless, ungodly, sinners, and enemies of God (see Romans 5:6-10). The good Shepherd is the only one who can provide forgiveness and peace to set us free from who we are.
There is, however, one catch: Before we can say that God is "my shepherd" and enjoy His forgiveness and peace, we must be willing to see ourselves as lost, helpless sheep. "All of us like sheep have gone astray, each of us has turned to his own way; but the Lord has caused the iniquity of us all to fall on Him [Christ]" (Isaiah 53:6). Even King David had to admit "I have gone astray like a lost sheep…" (Psalm 119:176).
When we see ourselves as sheep, then we can understand what we need more than anything else. Clearly, we need a tender, caring Shepherd who is willing to restore us and take care of us. Listen to the words of the Great Shepherd: "Come to Me, all who are weary and heavy-laden, and I will give you rest" (Matthew 11:28). Jesus can do that because He is "the good shepherd; the good shepherd lays down His life for the sheep" (John 10:11).
Everyone loves Psalm 23, but the beautiful truths in it are not for everyone. They are only for those who have realized their own helplessness, who have admitted their own neediness, who have turned to God, and who are following Him. Jesus said, "My sheep hear my voice, and I know them, and they follow me" (John 10:27).
I am so glad that Jesus is my Shepherd. Admitting that I'm a sheep crushes my pride, but it has opened my heart to Him. He is the one who became a sheep just like us, who never sinned, and who died like a sacrificial lamb for my sin and for yours. When we turn to Him and turn away from our selfishness and sin, we always have that wonderful Shepherd Psalm 23 talks about, both in life and in death. That's why I'm thankful to be a sheep.