Jonah 3:1 "Now the word of the Lord came to Jonah the second time"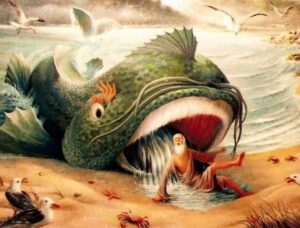 As we begin a New Year, it's always good to remember that the God of the universe is also the God of the second chance. Jonah, a prophet in the Bible is a good example. God gave him a job to do, but he blew it big time. The Lord called Jonah to warn the nation of Nineveh, his nation's most hated enemy, to repent or be condemned by God. Jonah absolutely refused to do it. It wasn't that Jonah tried to serve the Lord and failed. He purposely tried NOT to serve the Lord. God had to enroll him in a three-day seminar–in a fish's stomach! When Jonah graduated, God gave him another shot at doing the right thing.
What a joy to know that God is always ready to embrace us when we are just willing to surrender to Him. As we look back on 2020, we all can remember many disappointments and heartaches. If we are willing, though, we can also see many of our personal failures as well. Sometimes this last year we were lazy; sometimes we were just plain stubborn. Our biggest failure is that we didn't live up to God's standard of holiness, probably more times than we know. "For all have sinned and fallen short of the glory of God" (Romans 3:23).
Failure does have its silver lining, though. When we come face to face with our own shortcomings, it allows us to humbly depend on God like we should have been doing in the first place. In 2 Corinthians 12:7-10, the Apostle Paul explains how he learned that lesson. He was struggling with a severe physical disability. He came to God on three separate occasions and begged Him to take it away. God decided, though, that Paul would be better off keeping his physical handicap.
That sounds strange, but when God is in charge, weakness can become good. God explained to Paul: "My grace is sufficient for you, for power is perfected in [your] weakness" (2 Corinthians 12:9a). The more God empties us of our feelings of strength, the more room there is for God's strength in our lives.
If you think about it, how close we feel to God depends on us, not on anyone or anything else. We can't blame our background, our circumstances, or the people around us. An abundant amount of God's peace is available to any follower of Christ who simply humbles himself and seeks the Lord.
Paul got so excited about this truth that he said, "Most gladly, therefore, I will rather boast about my weaknesses, so that the power of Christ may dwell in me" (2 Corinthians 12:9b). Paul had such a deep hunger to experience more of the power and presence of God, that he considered weaknesses, insults, distresses, persecutions, and difficulties a small price to pay to get it.
The amount of God's daily presence that will flow through you or me in 2021 does not depend on the economy, the political party in power, how well others treat us, or how healthy we are. We will experience the power of God in direct proportion to how much we humbly depend on that all-powerful God.
Jonah shows us that the Lord can do great things through us for His glory, despite our past failures. Jonah failed in many ways, but God didn't give up on him.
God is reaching out to every one of us as well. We only need two things: a greater sense of our failure to honor God as He deserves and a willingness to trust Jesus completely. We can have His eternal forgiveness when we grow tired of our sin and turn from it. We then can turn to God and put our trust in Christ's sacrifice on the cross to pay the penalty for our sin that we rightly deserve. Once we belong to the Lord, we can find all the daily strength and peace that our hearts desire.
No one knows what 2021 will bring, but we can approach this New Year with much confidence if we admit our need for Jesus Christ. Then we can look to God for the strength He has promised: "You will seek Me and find Me when you search for Me with all your heart" (Jeremiah 29:13).
If there is anything that we can do here at Bethel Chapel Church to encourage you to find the peace and comfort that you need, give us a call or contact us at BethelChapelChurch@gmail.com. You will also find an interesting short video, "Life According to Jesus" at www.BethelChapelChurch.com.