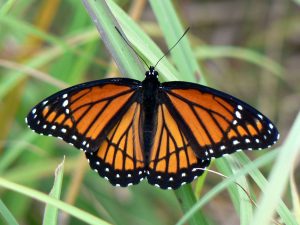 One day, two caterpillars were crawling on a leaf next to each other in a lush garden. Suddenly, a dark shadow came over them. They looked up and saw a butterfly flying overhead. One of the caterpillars turned to the other and said, "You couldn't get me up in one of those things for a million dollars." The only transportation those caterpillars were used to was their own 16 legs. Flying looked weird and even dangerous to them.
I tell that story because I know that following Jesus Christ can also look unreal, even scary, before a person decides to follow Him.
I think there are at least two reasons why becoming a Christian is scary.
Here is an obvious reason. Christians are people who freely give up ownership of their lives to Christ. I'm sure we all admit to making some bad choices in life, but the idea of surrendering full control of our lives over to a God we have never seen sounds terrifying. We like the idea of retaining at least some control over the decisions that we make.
The Apostle Paul, who persecuted Christ's followers before he met Jesus, learned that being a Christian means that God owns you. "Or do you not know that your body is a temple of the Holy Spirit who is in you, whom you have from God, and that you are not your own? For you have been bought with a price: therefore, glorify God in your body" (1 Corinthians 6:19–20).
When we own God's grace, God's grace owns us. That's because Jesus changes who we are. "… our old self was crucified with Him… so that we would no longer be slaves to sin" (Romans 6:6).
Here is another reason you may not want to be a Christian. In order for Jesus to own you, you must first be willing to turn away from our old sinful life. Paul explained it this way: "I have been crucified with Christ; and it is no longer I who live, but Christ lives in me; and the life which I now live in the flesh I live by faith in the Son of God, who loved me and gave Himself up for me" (Galatians 2:20).
Yes, there are some reasons for not wanting to be a Christian, but there are also some amazing benefits that make following Jesus more than worth it. "Now if we have died with Christ, we believe that we shall also live with Him… Even so consider yourselves to be dead to sin, but alive to God in Christ Jesus" (Romans 6:8, 11).
Think again about those two mythical caterpillars. They didn't know it at the time, but when they spun cocoons and appeared dead for a while, one day they would be totally transformed into one of those beautiful butterflies. Flying would no longer seem strange to them. What used to appear ridiculous and scary would become a freeing and joyful reality in their lives.
When you come to Christ, He makes you all new on the inside. That newness transforms you from a worm into a butterfly. "Therefore, if anyone is in Christ, he is a new creature; the old things passed away; behold, new things have come" (2 Corinthians 5:17).
That change brings a joy and a peace that nothing else can match. "O come, let us sing for joy to the Lord, let us shout joyfully to the rock of our salvation" (Psalm 95:1).
Coming to Jesus Christ can be scary; living for Him can be difficult, but getting to know Him is being able to soar like a butterfly. "Yet those who wait for the Lord will gain new strength; They will mount up with wings like eagles, they will run and not get tired, they will walk and not become weary" (Isaiah 40:31).