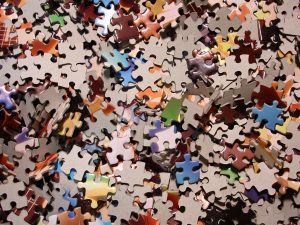 It's not usually a good idea to buy a jigsaw puzzle at a thrift store. Imagine how sad it would be to spend hours figuring out how the puzzle pieces fit together, only to eventually discover that one or more of them are missing.
I think the only thing worse would be if someone switched the covers of two puzzle boxes so that the picture on the box had nothing to do with the jigsaw pieces on the inside. Wow, that would be insane! How frustrating to try to fit all the pieces together, when you don't even know what picture it is supposed to make when you're finished.
Life comes to us as if someone dumped one big jigsaw puzzle out on the table in front of us. We feel helpless as we stare at that jumbled mess. Somehow we are supposed to fit all the puzzle pieces together so they make sense. We look at the picture on the box for help, but then discover it's the wrong picture. The media bombards us with unrealistic images of a picture-perfect life, but without a true picture of what life ought to be, there is little hope that we will ever figure it out.
Life seems meaningless because the pictures this life shows us of the way things ought to be are always wrong. Those things never lead to any real satisfaction. Solomon, the wisest man who ever lived, said, "I have seen all the works which have been done under the sun, and behold, all is vanity and striving after wind…  So I hated life, for the work which had been done under the sun was grievous to me; because everything is futility and striving after wind" (Ecclesiastes 1:14; 2:17).
We've all seen this, haven't we? We search for that perfect human relationship, only to discover it doesn't exist. We think that having more money will help life make sense, but long-term it doesn't help. Seeking for more and more pleasure never makes us happy, either.
Stare at life's many puzzle pieces all you want, but without the right picture to go by, all your efforts to construct a meaningful life or find lasting satisfaction will fail. Edwin A. Robinson wrote, "The world is a kind of spiritual kindergarten where bewildered infants are trying to spell God with the wrong blocks."
The story is told about two men who were sitting next to each other on a plane. One was napping, while the other one was working on a crossword puzzle. Eventually, he woke up the man sitting next to him and said, "I'm stumped. What is a three-letter word that has the letter "O" in the middle and means a man's best friend?" Half asleep the man mumbled, "Dog." But that word didn't fit in the puzzle. Finally, the first man discovered that the last letter in the word was a "D." All he needed to do was fill in the word "GOD."
We all need to let God be the center of everything. God is the only One who can direct us in this life because He is the One who made us. (Genesis 1:27). Thankfully, He has also given us an owner's manual (the Bible) so we can know what our lives should look like when life's pieces come together. He wants to make our lives into beautiful pictures of His goodness.
Did you ever wonder what is wrong with this world? Life only begins to make sense when you understand that sin is causing the chaos that we see inside us and in everything around us. Even the great Apostle Paul knew that, apart from Christ, there was nothing good about his human nature (see Romans 7:18). God created us to be shining rulers of a beautiful, perfect planet. Even though we ruined our world by choosing to disobey God, He still made a way to rescue us and to transform our lives into beautiful pictures of His grace.
When we have come to Christ and claimed His forgiveness, our purpose for living is completely changed. We are born again (John 3:7-8), and we receive a new passion to do what pleases God. "For you have been bought with a price: therefore glorify God in your body" (1 Corinthians 6:20).
Followers of Jesus Christ want to "… do all to the glory of God" (1 Corinthians 10:31). They discover that Jesus is the central focus of the universe. "For by [Jesus] all things were created, both in the heavens and on earth, visible and invisible, whether thrones or dominions or rulers or authorities—all things have been created through Him and for Him" (Colossians 1:16).
Glorifying God, though, doesn't look appealing until God has changed your heart. Oh, but when that happens, you discover that the picture on the puzzle box, the one that fulfills the longings of your heart, the one that produces wonderful joy, has Jesus right in the center. "O come, let us sing for joy to the Lord, let us shout joyfully to the rock of our salvation" (Psalm 95:1).
One Bible teacher put it this way: "Why did God create us? God created us for His pleasure and so that we, as His creation, would have the pleasure of knowing Him."