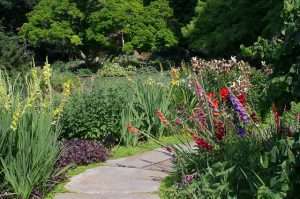 Once upon a time, on an especially beautiful spring day, a man from an urban area went to visit his younger brother, who worked a small farm out in the Midwest. One morning, after breakfast, the two of them decided to go for a walk. Soon they found a beautiful path alongside a pasture that was bordered on both sides with beautiful wild flowers. The older brother suggested they take that path to see where it went. He was surprised when his younger brother refused to go. His brother said, "You can take that path if you want to, but I will never walk down it with you."
The older brother was shocked. "Why don't you want to go with me along this path?"
His brother answered, "That path is used by the pigs, and it eventually leads to the worst patch of mire and manure and you ever saw."
An attractive path is not always the right path. That was true in my story, and it is true in real life, too.
As we start the New Year, let's slow down for a moment and think about the path we are taking in this life. Life presents us with many different paths. Some of them are lined with beauty, but many are filled with thorn bushes. The truth is that hard paths can wind up in good places, and easy paths can wind up in very bad ones.
How can we know if the path of life we are on is actually a good one or not? The answer is simple: find out where the path ends up. To put it another way: The question is not, "What is the pathway of your life-like?" but "Where does that pathway wind up?"
Yes, there are several reasons why difficult paths can be good for us. For example, God often uses hardships to wake us up to the fact that we need Him. Our most common sin is acting like we can handle life on our own, instead of acknowledging that we are dependent on God for everything. That is why the Bible tells us to, "Trust in the Lord with all your heart and do not lean on your own understanding. In all your ways acknowledge Him, and He will make your paths straight. Do not be wise in your own eyes; fear the Lord and turn away from evil" (Proverbs 3:5–7).
Sometimes God allows difficulties in our lives so He can prove that He can turn bad things into good things. That is a miracle that only God can do, and it highlights how good and powerful He is. If everything was already good, we wouldn't know how good God can be. One important caution: God only promises to do this if you are in love with Him and trust that His plans are better that your plans. (See Romans 8:28).  
Here is another thought. When the Lord allows us to go down hard paths, it gives us the chance to show that we love Jesus in spite of our problems. If we really love Jesus because He died for us, we will continue to do whatever it takes to follow Him.
What about the easy or attractive paths in our lives? That which looks good at first can lead to disaster. We should look down the road and see where it ends. Don't be fooled by how appealing it is because, "There is a way which seems right to a man, but its end is the way of death" (Proverbs 14:12).
The Bible guides believers so they can know a good path when they see it. "You will make known to me the path of life; in Your presence is fullness of joy; in Your right hand there are pleasures forever" (Psalm 16:11).
The benefits of following God are NOT all future. Although a Christian's life will end with unimaginable joy, God also provides happiness along the way. "Make me walk in the path of Your commandments, for I delight in it" (Psalm 119:35). "All the paths of the Lord are lovingkindness and truth to those who keep His covenant and His testimonies" (Psalm 25:10).
As you start this New Year, make a commitment to be a follower of Jesus. He loved you so much that He blazed a path for you by paying for your sins. You are free from sin's penalty when you turn to Him, and He also promises His loving presence to those who follow Him. "Now may the God of hope fill you with all joy and peace in believing, so that you will abound in hope by the power of the Holy Spirit" (Romans 15:13).