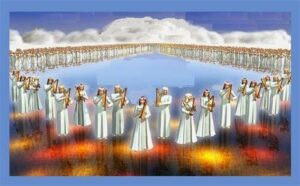 Revelation 5:9 "And they sang a new song, saying, "Worthy are You …"
I came across those words recently in Revelation, the last book of the Bible. This verse reminded me that there is a universal fascination with having something NEW. Who, for example, doesn't like that "new car" smell? Most women get a thrill out of a new pair of stylish shoes. Our desire for something new certainly hasn't escaped the attention of advertisers. The most effective advertising slogan of all time is "New and Improved" (which makes no sense because a product can't be both at the same time).
Why do we often long for something NEW? I think it's because we instinctively know that there must be something better than what we are experiencing right now. Let me state the obvious. Even when we do get something new, it doesn't stay new. For example, it isn't long before that new car gets dinged, and before you know it, it doesn't feel new anymore.
You don't have to look far before you notice that this world is broken. Even the little annoyances–the constant wearing out and breaking down of everything around us–makes life feel pointless. Then there are the violent crimes swirling in the streets and the bloody war we are hearing about in Europe. The Bible describes our average daily existence as a "futile way of life" (1 Peter 1:18). Even Paul said he wanted to be, "set free from the body of this death" (Romans 7:24).
We all long to have something that is satisfying, something that will never lose its "newness." The good news of the book of Revelation in the Bible is that lasting "newness" is coming! One Greek dictionary says that the word NEW in Revelation 5:9 means something that is "recently made, fresh." That is what we all long for!
The book of Revelation tells us what some of these thrilling new gifts will be. For example, God will be "making all things new" (Revelation 21:5). Believers will receive a "new name" (Revelation 2:17). They will live in "the new Jerusalem, which comes down out of heaven" (Revelation 3:12). God will also give His followers "a new heaven and a new earth" (Revelation 21:1).
Those new gifts sound even more wonderful when you remember that the One who gives them is glorious and eternal. In every way God is beautifully amazing: "there is no one like the Lord our God" (Exodus 8:10).
The NEWNESS God offers isn't something you could get someday in eternity. It can begin right now in your heart. Jesus is the One who suffered to make this possible for you. "…You were not redeemed [i.e., have your sins forgiven] with perishable things like silver or gold from your futile way of life inherited from your forefathers, but with precious blood, as of a lamb unblemished and spotless, the blood of Christ" (1 Peter 1:18-19). New life begins when you put your trust in Him. That is when you are born again and enter NEW life through His Spirit (see John 3:3-15). The NEW life God gives you will stay NEW forever.
God's gifts are not only marvelously NEW, but He longs for you to enjoy them: "Therefore the Lord longs to be gracious to you, and therefore He waits on high to have compassion on you. For the Lord is a God of justice; how blessed are all those who long for Him" (Isaiah 30:18).
If you are tired of the pointless treadmill of your everyday existence and you want things to be NEW in your life, then there is a NEW life waiting for you. "Therefore, if anyone is in Christ, he is a new creature; the old things passed away; behold, new things have come" (2 Corinthians 5:17).
I have never met a Christian who regretted their decision to forsake sin and follow Christ. I'm praying that many of you will discover the NEW life that God has for you. It will put a "new song" in your heart.
If I can do anything to help you find this wonderful NEWNESS feel free to contact me. My email address is BethelChapelChurch@Gmail.com.