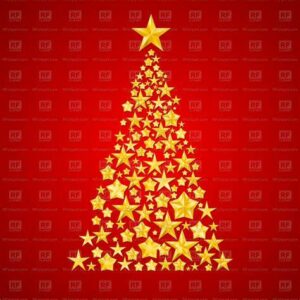 I hope you are looking forward to celebrating Christmas. We need the light and joy and love of Christmas in our hearts and homes, especially this year. No matter what has happened, no matter what you are afraid will happen, there is still much about Christmas that we can celebrate.
I hope you have a Christmas tree, even if it is a small one. The ornaments and decorations on a Christmas tree remind us of what we have to rejoice about during the Christmas season. In past years I've written articles about different items on our tree that remind us of the joy of Christmas and of the joy of Jesus, the One who came into the world to save us.
Many of the decorations on our tree are Christmas stars. I haven't counted them, but I'm sure there are more than a dozen. They are made from so many different materials, like glass, crystal, gold, and papier-mache. One is even made from a beautiful, white embroidered lace.
Why so many stars? I'm sure many of you know the answer. God used a supernatural star to guide wise men from a far-off land to the place where the young Jesus lived. They came with gifts, and they worshipped this child God had sent into the world.
Those stars on the Christmas tree don't just remind us of an inspiring legend, though. They call attention to an actual, historical event. Sometimes there are so many make-believe stories told around Christmas time that we forget what is historical and real and true.
As we enjoy looking at those star-shaped decorations, what should they remind us of?
First, they remind us that Christmas is for the whole world. God didn't just send the news to some shepherds who lived in the land of Israel. Yes, Jesus the Messiah is Jewish, but He came for the whole human race. Jesus made that very clear. "For this is the will of My Father, that everyone who beholds the Son and believes in Him will have eternal life, and I Myself will raise him up on the last day" (John 6:40). That is one reason why anti-Semitism can never have a home in Christianity.
God put that bright, beautiful star high in the sky for everyone to see, to announce to the entire world that Jesus came for them! The angels told the shepherds "… Do not be afraid; for behold, I bring you good news of great joy which will be for all the people" (Luke 2:10). The wise men who followed the star were Gentiles, and that reminds us that God's gift of salvation is available to all who are not Jewish as well.
I'm so glad! That truth fuels my Christmas joy and influences the whole Christmas message. Christmas isn't just about gifts. No! It is about The Gift! We can only be "justified as a gift by [God's] grace through the redemption which is in Christ Jesus" (Romans 3:24).
There is another thing we can learn from the Christmas star. It reminds us that, although we may know about Jesus, we may see the signs of Him around us, but we must look for Him in order to worship Him. It's not enough to see a star in the sky, or on the Christmas tree. You, yourself, also have to make the journey to the Christ of Christmas.
Some people think they're a Christian because they don't belong to another religion, like Hinduism or Islam. That is a mistaken idea. No one is automatically born into this world as a Christian.
Others think that they are Christian because they attend a Christian church or one that claims to be. That won't do either. One person put it this way, "Going to church doesn't make you a Christian any more than living in a garage will make you a car."
You only become a Christian when you have a relationship with Jesus, the God-man who came into the world. "When the kindness of God our Savior and His love for mankind appeared, He saved us, not on the basis of deeds which we have done in righteousness, but according to His mercy…" (Titus 3:4–5).
Anyone may hear about Jesus, but only a few look for Him and find Him. There were only a few Wise Men who went to the trouble to pack up their bags, prepare for a long journey, and set out to find the newborn King. Cling to God's promise that "You will seek Me and find Me when you search for Me with all your heart" (Jeremiah 29:13).
This Christmas I hope you will not only see the star of God's shining light and love, but also come to find Him. Now is the time to begin your relationship with the God who gave us Christmas!
"Never a brighter star has shone,
Bright as a gem in heaven's crown,
Hailing the King who left His throne,
Sovereign of all to earth come down."
[From "Never a Brighter Star" (By Beckenhorst Press), lyrics by Eileen Berry, music by Dan Forrest.]