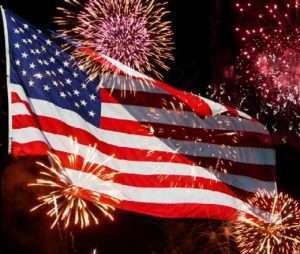 On July 4th two hundred and forty-one years ago, America declared its independence from Great Britain. Ironically, at the same time this country also declared its DEPENDENCE on the Almighty Creator with these famous words, "We hold these truths to be self-evident, that all men are created equal, that they are endowed by their Creator with certain unalienable Rights, that among these are Life, Liberty and the pursuit of Happiness." They were forming a new government based on the wonderful truth that our rights come from God, not from any government.
With that thought in mind, I would like to share some of my personal "Declarations of Dependence." My hope is that you will join me in making similar promises.
Whereas I am inclined to trust my own thoughts and wisdom as I face life's choices, I pledge to depend on God for every decision I make. "Trust in the Lord with all your heart and do not lean on your own understanding. In all your ways acknowledge Him, and He will make your paths straight" (Proverbs 3:5–6).
Whereas I am so prone to worrying and fretting about my future, I pledge to rejoice regularly in how good God is and to seek His presence by sharing my concerns and my thankfulness with Him regularly. "Rejoice in the Lord always; again I will say, rejoice! Let your gentle spirit be known to all men. The Lord is near. Be anxious for nothing, but in everything by prayer and supplication with thanksgiving let your requests be made known to God. And the peace of God, which surpasses all comprehension, will guard your hearts and your minds in Christ Jesus" (Philippians 4:4–7).
Whereas I am inclined to act as if I can live most of my life independent of the One who made me, I pledge to spend much time getting to know Jesus better and trusting His invitation to, "Abide in Me, and I in you. As the branch cannot bear fruit of itself unless it abides in the vine, so neither can you unless you abide in Me. I am the vine, you are the branches; he who abides in Me and I in him, he bears much fruit, for apart from Me you can do nothing. If anyone does not abide in Me, he is thrown away as a branch and dries up; and they gather them, and cast them into the fire and they are burned. If you abide in Me, and My words abide in you, ask whatever you wish, and it will be done for you (John 15:4–7).
Whereas I tend to forget how good God has been to me and to focus instead on my difficulties, I pledge to think much about God's love for me. "Just as the Father has loved Me, I have also loved you; abide in My love….These things I have spoken to you so that My joy may be in you, and that your joy may be made full" (John 15:9, 11). I know my responsibility is to keep myself "… in the love of God, waiting anxiously for the mercy of our Lord Jesus Christ to eternal life" (Jude 21).
Whereas my pride leads me to think that my good intentions and hard work will be enough to satisfy a holy God, I pledge to trust in Christ's work alone to make me good enough to live with God in eternity. "But God, being rich in mercy, because of His great love with which He loved us, even when we were dead in our transgressions, made us alive together with Christ (by grace you have been saved)…For by grace you have been saved through faith; and that not of yourselves, it is the gift of God; not as a result of works, so that no one may boast" (Ephesians 2: 4–5, 8–9).
I hope you enjoy America's July 4th independence celebration. This is still a wonderful country, in spite of our many problems. I know you will also enjoy God's peace and comfort throughout this year if you will join me in my "Declarations of Dependence" on Almighty God.