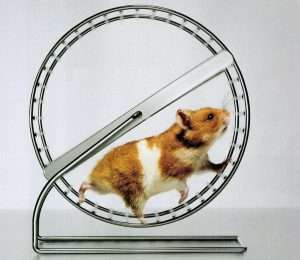 Well, it's now been over two weeks since Christmas. The thrill of getting new (cool?) stuff is already wearing off, isn't it? The kid's new toys may already be collecting dust in the corner, or they may even be broken! The neat, new gadgets we got aren't always all we had expected. Some of them are hard to figure out, and others wind up being more trouble than they are worth. Even if we did get something really exciting, the happiness it brought is beginning to wear off.
On the other hand, maybe you didn't get what you were hoping for. Maybe you didn't get anything at all. I'm here to tell you that's OK. It's OK because getting the things you want will never satisfy your deepest longings.
Have you ever thought that there must be more to life? Do you feel like you are constantly looking for the next thing that will really satisfy you? We all want something that satisfies, without any side effects. Maybe there are times when you feel that your life is like that gerbil running on an exercise wheel—lots of movement, but no progress.
Take heart. You aren't the only one who feels that life is empty.
One of the early Christian leaders, Augustine (354–430 AD), became an influential North African Christian theologian. His life did not begin in that direction at all, though. He was raised by a Christian mother in modern-day Algeria, but he didn't want anything to do with Christ.
At age 17 he traveled to the famous city of Carthage to study rhetoric. He soon turned his back on his Christian roots and joined an odd cult called Manichaean. When that didn't bring him satisfaction, Augustine delved into a lifestyle of promiscuous sex. It was during this time that he wrote his famous prayer: "Grant me chastity
[no sex] and continence [self-control], but not yet."  Later, he admitted that "Our real pleasure consisted in doing something that was forbidden. The evil in me was foul, but I loved it."
When Augustine turned 19, much to the grief of his mother, he started an affair with a young lady in Carthage. They lived together for 15 years and had a son. Augustine then left her in order to marry a ten-year-old, wealthy heiress. He had to wait for two years because the legal age for marriage was 12. Before the two years were up, he changed his mind.
At the age of 30 he won the coveted job of rhetoric professor in Milan, Italy, which was the best known academic position in the Latin world of his day. This job often opened the door to political careers, so his future looked bright. He had tired of the Manichaean cult and had become a skeptic, denying the existence of any absolute truth.
Still Augustine had no peace, saw no purpose in his life. Then his search for life's meaning finally took a positive turn. He was introduced to Ambrose, an important Christian theologian, who befriended him and shared the Gospel of Christ. That relationship prompted Augustine to begin reading the Bible. By chance, one day he opened the Bible to Romans and read Chapters 12-15. Later he wrote that it was Chapter 13:13-14 that led him to give his heart to Christ:
"Let us behave properly as in the day, not in carousing and drunkenness, not in sexual promiscuity and sensuality, not in strife and jealousy. But put on the Lord Jesus Christ, and make no provision for the flesh in regard to its lusts." 
Augustine later wrote, "No further would I read; nor needed I: for instantly at the end of this sentence, by a light as it were of serenity infused into my heart, all the darkness of doubt vanished away." From that day forward, Augustine found that following Christ was the only thing that brought him a satisfying, inner joy. His experiences had taught him that there was no lasting happiness in illicit sex, religious cults, money, or fame.
How can we have the same joy that Augustine found? Follow his example. He repented of his sin and embraced the forgiveness that Jesus paid for on the Cross. He explained it this way, "You must be emptied of what you have been filled with, so that your inner emptiness may be filled."
Augustine explained why surrender to Christ produces a sense of fulfillment: "You have made us for yourself, O Lord, and our heart is restless until it rests in you." That is the wonderful truth–that you and I were made for God. That is why we exist.
 "Worthy are You, our Lord and our God, to receive glory and honor and power; for You created all things, and because of Your will they existed, and were created" (Revelation 4:11).
The only way we can get off of the "gerbil wheel" of life is to give our lives to Christ. When we do that, life here takes on real meaning, and that meaning and that life will extend into eternity.
God only is the creature's home
Though rough and straight the road
Yet nothing else can satisfy
The soul thus made for God.
— Hannah Whitall Smith