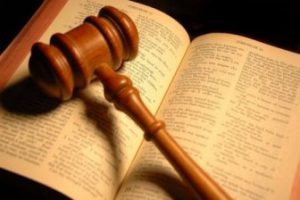 Life always has its ups and downs. We have all come to expect that. Even though life is often difficult, 2020 has hit us with more than the usual problems. It started with a very contagious and unknown flu virus that took many lives. Just as it began to look like there was some light at the end of that tunnel, there were massive protests because of a brutal death at the hands of a policeman. That ignited protests that then spawned riots and looting.
The rioters, who are supposedly protesting injustice, are themselves committing horrible acts of injustice. This situation got me thinking about the eternal importance of justice. We've heard the President talk about justice. We've heard our Governor, Mayor, and many others weigh in on the importance of justice. I think it's time to hear what the Creator of this world says about it.
After all, God's view of justice is far more important than the views of the politicians or the protesters. Every one of us will ultimately answer to the One who made us. We will all stand before God's throne someday. "…it is appointed for men to die once and after this comes judgment" (Hebrews 9:27). "The LORD reigns, He is clothed with majesty; The LORD has clothed and girded Himself with strength…" (Psalm 93:1).
Since God rules the universe in the midst of our present chaos, we should be crying out for Him to show His justice. "Rise up, O Judge of the earth, render recompense to the proud. How long shall the wicked, O LORD, how long shall the wicked exult? They pour forth words, they speak arrogantly; all who do wickedness vaunt themselves…. They have said, 'The LORD does not see, nor does the God of Jacob pay heed'" (Psalm 94: 2–47).
We should be praying that all evildoers will concern themselves most with God's justice. Unless they repent and accept Christ's offer of forgiveness, God will bring swift justice to every arrogant lawbreaker. "Pay heed, you senseless among the people; and when will you understand stupid ones? He who planted the ear, does He not hear? He who formed the eye, does He not see? He who chastens the nations, will He not rebuke, even He who teaches man knowledge? The LORD knows the thoughts of man, that they are a mere breath" (Psalm 94:8–11).
Man's justice is imperfect at best, and sometimes it is not justice at all. God's justice, though, is perfect and cannot be avoided. Lawbreakers beware: "[God] has brought back their wickedness upon them and will destroy them in their evil; The LORD our God will destroy them" (Psalm 94:23).
While we are waiting for God to execute His perfect justice on the lawbreakers around us, it is good to know that His followers have no reason for fear or for worry. "If the LORD had not been my help, my soul would soon have dwelt in the abode of silence. If I should say, 'My foot has slipped,' Your lovingkindness, O LORD, will hold me up. When my anxious thoughts multiply within me, Your consolations delight my soul…. the LORD has been my stronghold, and my God the rock of my refuge" (Psalm 94:17–19, 22).
The problems swirling around us today are scary, but we don't have to be nervous about them. God's Word tells us to "be anxious for nothing." That is a command to not worry about anything.
How is that possible?
It starts when we get alone with God and take our fears and requests directly to Him. "….in everything by prayer and supplication with thanksgiving let your requests be made known to God…"
God's promise, and I have found this to be true in my life, is that "…the peace of God, which surpasses all comprehension, will guard your hearts and your minds in Christ Jesus" (Philippians 4:6–7).
You can rest in God's care. Nothing will ever hinder what the Almighty, the all-powerful Creator, will do. "'Ah Lord GOD! Behold, You have made the heavens and the earth by Your great power and by Your outstretched arm! Nothing is too difficult for You" (Jeremiah 32:17).
If you have given your life to Jesus, be assured that no matter what the future holds, "God is able to make all grace abound to you, so that always having all sufficiency in everything, you may have an abundance for every good deed" (2 Corinthians 9:8).