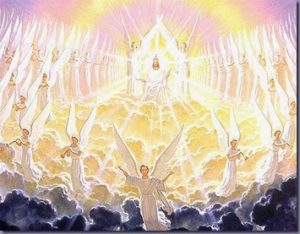 I don't know what picture comes to your mind when you think about God. Some imagine Him up in heaven with a frown on His face, just waiting to punish us for our faults. Others picture a kind, but somewhat distant, old man sitting on a throne with a long white beard, someone who only wants you to try your best.
Your mental picture of God may be much different, or it may even be a combination of the two I just mentioned. Neither of them are correct. The Bible itself has a description of God that you may have never considered. It is both wonderful and mysterious all at the same time. Did you know that God can not only be your friend, but He can also actually be your best friend?
The Bible tells us that Abraham, the father of the Jews and the Arabs, is called "a friend of God"? That description of Abraham's relationship to God is repeated in 2 Chronicles 20:7, Isaiah 41:8 & James 2:23. In the New Testament that we find out that Jesus–God in human flesh–offers Himself to be our friend, too.
Ralph Waldo Emerson is the one who said, "Every man passes his life in the search after friendship." I think we can all relate. Down deep, we all long to have at least one friend that we can always rely on. Jesus can be that kind of friend.
Past disappointments with those we thought were our friends often make us cynical. We start to avoid getting close to anyone for fear of being hurt again. Thankfully, we don't have to live life like that. Jesus offers to be a perfect and unfailing personal friend to those who follow Him.
Notice how this relationship with the Lord can be real.
Jesus is the one who initiates the friendship: "Greater love has no one than this, that one lay down his life for his friends" (John 15:13). Jesus proved that He loves us by stepping in and enduring the wrath of God that we deserve because of our sins. "…while we were [God's] enemies we were reconciled to God through the death of His Son…." (Romans 5:10).
Jesus' actions do not automatically mean that He is your friend, though. You have to accept that friendship, turn from your sins, and follow Him. When you become a Christian, you also fall in love with the person of Jesus Christ. That love for Jesus drives you so that you want to obey Him, even though you do it imperfectly. If Jesus is your friend, it will show in how you live. That's why Jesus said, "You are My friends if you do what I command you" (John 15:14); "If you love Me, you will keep My commandments" (John 14:15).
Jesus responds to our love for Him by giving us a deeply satisfying friendship with Him. "No longer do I call you slaves, for the slave does not know what his master is doing; but I have called you friends, for all things that I have heard from My Father I have made known to you" (John 15:15).
We may look at our past failures, and wonder how COULD Jesus want us as His friend.  Well, thankfully, the Lord's love for us does not depend on our personal goodness. Jesus proved this by loving even the most despised people in His day. He was called "… a friend of tax collectors and sinners…" (Matthew 11:19).
Your life may be filled with disappointments, but you can still experience a supernatural friendship with the One who made you. The life of Joseph Scriven (1819-1886) is an excellent example of this. As a young man, he was engaged to a woman who was the love of his life, but the night before their wedding tragedy struck. She was on a boat that capsized, and she drowned. In hopes of forgetting his grief (which he never did), Joseph left his home in Ireland and went to Canada.
He found a job teaching in a school, and he also served as a tutor. He chose to live very simply. He generously provided for those in need around him. At times he even gave away some of his own clothing. Some people considered him to be odd, but all he wanted to do was obey God's Word as best he could understand it.
In his loneliness, Joseph Scriven leaned on Jesus and found Him to be his best friend. It was his relationship with Christ that moved him to pen these simple, yet moving words that were later put to music:
What a friend we have in Jesus,
All our sins and griefs to bear!
What a privilege to carry
Everything to God in prayer!
The early Christian church leader, Augustine wrote this memorable line: "O Lord, You have made us for Yourself, and our heart is restless until it finds its rest in You."
You too, can experience a supernatural friendship with God. Turn your life over to Jesus, and you will learn that "God is faithful, through whom you were called into fellowship with His Son, Jesus Christ our Lord" (1 Corinthians 1:9).