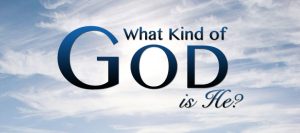 Have you ever heard Christians exchange this common greeting? The first person will say, "God is good all the time," and the other person will answer, "All the time, God is good." I have enjoyed exchanging those words with numerous people.
The idea that God is good really sounds nice (by the way, it does reflect what the Bible teaches), but does it actually stand the test of the day-to-day grind in everyday life? After all, there is no denying the fact that Christians experience a lot of the same trials and disappointments that non-Christians experience. For example, I know wonderful Christians people who have lost their battle with cancer or had to bury their children, or had to care for parents with dementia, or suffered financial losses, or lost their jobs. I could go on, but you get the point.
In fact, an argument could be made that many Christians have suffered even more than the average person. Researchers tell us that more Christians were martyred in the 20th Century than all the previous 19 Centuries COMBINED. Many, many Christians have been severely persecuted just because they openly followed Jesus.
That brings me to a very thought-provoking question. In light of all the suffering that Christians have faced, and perhaps the suffering you are presently experiencing, is it still true that God is good?
Many modern, so-called Christian teachers have tried to answer this question by saying that Christians won't have to suffer if they just have enough faith. That may sound good, but the Bible actually teaches the exact opposite. "Indeed, all who desire to live godly in Christ Jesus will be persecuted" (2 Timothy 3:12). Jesus Himself said, "…If they persecuted Me, they will also persecute you…." (John 15:20), and remember that they executed Him!
How can believers say that God is good all the time when He allows His own followers to not only suffer much the same things as non-Christians suffer, but also to endure extra hurtful and unfair treatment that most others don't have to experience?
There are several ways Christians can always know that God is really good, in spite of the pain and suffering they may have to endure. I only have room to share one of those ways with you today.
No one likes to suffer, but Christians know that God can work through their hardships to bring something wonderful into their lives. In 2 Corinthians 12:7-10 the Apostle Paul explained how he discovered this truth in his own life. He was afflicted with a severe disability. Three times he begged God to take it away. Surprisingly, God said no. God actually had a better plan. Paul's suffering constantly reminded him that he was weak. That weakness drove him to depend even more on Jesus for comfort and help. That closeness to Jesus allowed Paul to experience more and more of Christ's presence and power in his life. Paul had a genuine love for Christ, and he could see that anything that helped him to get closer to Jesus was a good thing.
As Paul saw the results of that suffering in his life, he went on to say in 2 Corinthians 12:10, "Therefore I am well content with weaknesses, with insults, with distresses, with persecutions, with difficulties, for Christ's sake; for when I am weak, then I am strong."
The following passage sheds even more light on the benefits of the suffering that Christians experience.
"But now, thus says the Lord, your Creator… 'Do not fear, for I have redeemed you; I have called you by name; you are Mine! When you pass through the waters, I will be with you; and through the rivers, they will not overflow you. When you walk through the fire, you will not be scorched, nor will the flame burn you. For I am the Lord your God, the Holy One of Israel, your Savior… you are precious in My sight since you are honored and I love you… Do not fear, for I am with you…. Everyone who is called by My name, and whom I have created for My glory, I have formed, even whom I have made" (Isaiah 43:1-5, 7).
In the above passage, God tells us up front that His followers will often have to pass through the deep waters, the rivers, and the fires of this life. The difference is that they don't have to do it alone. God's presence is deeply comforting and amazingly powerful to His own followers. When Christians are experiencing sorrow, ironically, they can still have a reservoir of joy. As Paul put it, "… I am filled with comfort; I am overflowing with joy in all our affliction" (2 Corinthians 7:4).
If you turn from your sin to Jesus, as Paul did, you will also have a joy that will never go away. "Who will separate us from the love of Christ? Will tribulation, or distress, or persecution, or famine, or nakedness, or peril, or sword?… For I am convinced that neither death, nor life, nor angels, nor principalities, nor things present, nor things to come, nor powers, nor height, nor depth, nor any other created thing, will be able to separate us from the love of God, which is in Christ Jesus our Lord" (Romans 8:35, 38–39).
God is truly amazing. The difficulties of this life can't hide how good He is to those who follow Him. Praise the Lord!