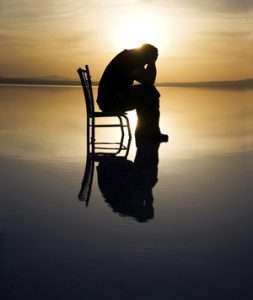 A recent Reuter's news story caught my attention: "More than 2 Million U.S. Youths Depressed: Study." As I read though the article, I was astonished when I came to this part: "Depression is the leading cause of suicide, which in turn is the third-leading cause of death for 15 to 24-year-olds in the United States. 'Combined 2004 to 2006 data show that rates of past year major depressive episodes among youths aged 12 to 17 generally increased with increasing age,' the researchers wrote." (Emphasis mine). Wow! Not only are many young people depressed, but it also gets worse as they get older.
Young people, of course, are not the only ones who struggle with getting down in the dumps; everybody experiences it from time to time. The question for most of us is, "Where do we go for help when discouragement drifts into depression?" A survey by the National and International Religion Report, Jan. 1, 1992, asked that very question. Three of the following choices were allowed: 60% put a mental health professional at the top of the list; 45% recommended a medical doctor; only 20% suggested a church, or pastor; and just 14% suggested a spouse, relative, or friend.
That is almost the opposite of what actually helps. Even a Time magazine cover story (June, 1996) agrees with that. The article concluded that: "1. Heart-surgery patients who draw comfort from their religious faith have a significantly higher survival rate than those who do not. 2. The blood pressure of people who attend church is 5mm lower than that of those who do not. 3. People with religious faith who attend church regularly experience less depression than nonreligious people, while suicide is four times higher among non-churchgoers."
The Time magazine story points us to Someone who wants to help us. Before we can turn to God for help, though, we must first believe that He really cares about us. When life crashes in on us like a tidal wave and we feel that everything is hopeless, it's hard to think of God as the solution, but He is. Whether it's intense physical pain, or unbearable emotional pain, we need a God who truly understands what we are going through.
Joni Eareckson Tada learned that lesson the hard way. She struggled to believe that God loved her after a tragic accident when she was seventeen years old that left her a quadriplegic. One night when she was in deep depression she begged a friend to give her some pills so she could kill herself. When her friend refused, she thought, "I can't even die on my own!" Her depression spiraled into rage and bitterness.
Not long after that, Joni's best friend, Cindy, came to visit. She sat by her bedside and announced, "Joni, Jesus knows how you feel. You're not the only one who's been paralyzed. He was paralyzed too."
Joni glared at her. "Cindy, what are you talking about?"
"It's true. It's true, Joni. Remember, He was nailed to the cross. His back was raw from beatings like your back sometimes gets raw. Oh, He must have longed to move. To change His position, to re-distribute His weight somehow, but He couldn't move. Joni, He knows how you feel." That conversation marked a change in Joni. She surrendered herself to Christ, and to this day she has been living a joyful exuberant life. (You can learn a lot more about her on the Web at www.joniandfriends.org).
Knowing that God understands our struggles, though, is not enough. We also need to know that we can only find real meaning and purpose in this life in God. This is true because "The Lord hath made all things for himself…." (Proverbs 16:4). God Himself declared, "Do not fear, for I am with you… Everyone who is called by My name, and whom I have created for My glory, whom I have formed, even whom I have made" (Isaiah 43:5–7).
When we surrender our lives to God, then we can claim God's promise that "'I know the plans that I have for you,' declares the Lord, 'plans for [peace] and not for calamity to give you a future and a hope. Then you will call upon Me and come and pray to Me, and I will listen to you. You will seek Me and find Me when you search for Me with all your heart. I will be found by you,' declares the Lord . . ." (Jeremiah 29:11-14).
If you are surrendered to Christ, then you can know that in the midst of your troubles, God is up to something good in your life, no matter what is happening. "We know that God causes all things to work together for good to those who love God, to those who are called according to His purpose" (Romans 8:28).
Many years ago a hydroelectric dam was scheduled to be built in New England. A small town in that valley had to be relocated because the dam would be flooding the area. While they were waiting to be moved, the buildings in the town–which had been kept up nicely–fell into terrible disrepair. The once picturesque little town became an eyesore. Why did this happen? As one resident put it, "Where there is no faith in the future, there is no work in the present."
When we know Jesus, though, we have faith in an unlimited future.  Because we are convinced that we are eternally loved by Christ, the temporary circumstances of life won't depress us like they once did. Even though "… you have not seen [Jesus], you love Him, and though you do not see Him now, but believe in Him, you greatly rejoice with joy inexpressible and full of glory, obtaining as the outcome of your faith the salvation of your souls" (1 Peter 1:8–9).