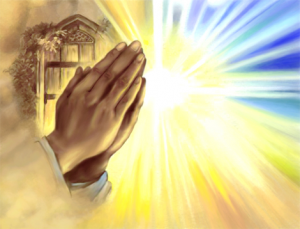 In the middle of His Sermon on the Mount (Matthew 6:9-13), Jesus gave us what is usually called "The Lord's Prayer." This prayer is important because it gives us a pattern, or an outline, to follow when we pray.
Some people have wondered, "Should we recite the Lord's prayer?" Jesus didn't tell us to recite this prayer, and there are no records that the disciples ever recited this prayer. I think they understood that this was a pattern for us to follow when we pray. On the other hand, I don't see any harm in reciting this prayer, as long as we don't do it mindlessly without thinking about what we are praying. Jesus warned us: "And when you are praying, do not use meaningless repetition as the Gentiles do, for they suppose that they will be heard for their many words" (Matthew 6:7).
How can we use the Lord's Prayer as a pattern for our own prayers? Since so many of us have the Lord's Prayer memorized, it can be a convenient guide for our conversations (prayers) with God. Let me give you a very brief idea of how to do this.
This prayer starts by putting the focus on what God is like.
"Our Father" We can only approach God confidently when we have been adopted into His family. This happens when we hate our own sin, turn away from it, and put our trust in Christ's sacrifice on the cross to pay the punishment our sins deserve. "For you are all sons of God through faith in Christ Jesus" (Galatians 3:26). If you haven't put your faith in Christ, you don't have any right to pray this prayer. When God has included us in His family though, we can "… cry out, 'Abba! [Daddy!] Father!'" (Romans 8:15). If you belong to Jesus, you can address God as your Father!
Bible teacher Wayne Grudem put it this way, "One of the greatest privileges of our adoption is being able to speak to God and relate to Him as a good and loving Father."
"Who art in heaven" We need to remind ourselves that we are talking to the God who created everything. We aren't talking, as some people say, to the "man upstairs." We are talking to the eternal, all-powerful God. Paul prayed that Christians would understand "… the surpassing greatness of [God's] power toward us who believe. These are in accordance with the working of the strength of His might which He brought about in Christ, when He raised Him from the dead and seated Him at His right hand in the heavenly places" (Ephesians 1:19–20).
"Hallowed [Holy] be Your name" This is the first request. Here we ask that God would be exalted as pure and completely separate from sin. Paul put this into practice when he prayed that believers would live "… so that the name of our Lord Jesus will be glorified in you, and you in Him, according to the grace of our God and the Lord Jesus Christ" (2 Thessalonians 1:12).
"Your kingdom come. Your will be done, on earth as it is in heaven" We also pray that God would rule supreme here on earth. God should be obeyed and reverenced just as He is in heaven. "The Lord has established His throne in the heavens, and His sovereignty rules over all" (Psalm 103:19). Our heart's desire should be "that at the name of Jesus every knee will bow, of those who are in heaven and on earth and under the earth, and that every tongue will confess that Jesus Christ is Lord, to the glory of God the Father" (Philippians 2:10–11).
"Give us this day our daily bread" Here we have the first personal request. Praying this expresses our dependence on God for our basic needs of life. God is the one who promises to "… supply all your needs according to His riches in glory in Christ Jesus" (Philippians 4:19). Remember that God only meets our needs one day at a time. This teaches us to depend on Him constantly. "Every good thing given and every perfect gift is from above…." (James 1:17).
"Forgive us our debts, as we have forgiven our debtors" Those who are really praying this prayer already have an eternal relationship with God (see 1 John 2:12)–because God is their Father. Sadly, though, we still sin. This part of the prayer reminds us both of God's willingness to forgive us, and also that we need to be willing to forgive those who sin against us in the same way that we have already been forgiven. "… forgiving each other, whoever has a complaint against anyone; just as the Lord forgave you, so also should you" (Colossians 3:13). Thomas Manton, a Puritan, put it this way, "There is none so tender to others as they which have received mercy themselves, for they know how gently God hath dealt with them."
And do not lead us into temptation (or trial), but deliver us from evil" The Bible tells us that every follower of Jesus will suffer hardships, even persecution (2 Timothy 3:12; Acts 14:92), but that we should pray that we won't allow hardships and trials to be an excuse to sin. For example, losing your job is a trial. If you get angry or fearful, then it has become a sin. If you have financial problems, that would be a test. If you then doubt God's goodness, it becomes a sin. If a loved one passes away, that is a test. If you fall into bitterness and despair, then it becomes a sin.
Much more could be said, but I hope these few words will challenge you to follow this pattern to pray as Jesus taught us. It such a wonderful privilege to speak with the Lord of Glory. He wants us to talk to Him, and doing it is time well spent. I have found that God is worthy of my affection and undying devotion because "from Him and through Him and to Him are all things. To Him be the glory forever. Amen" (Romans 11:36).