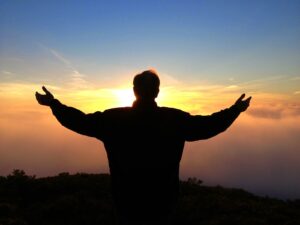 Do you get any happiness out of the time you spend praying, or does it feel more like a strenuous duty? For many people, prayer means reciting the Lord's Prayer or mumbling other memorized words. I assume that's why, when some people learn that I'm a pastor, they often ask, "Say a prayer for me."
Prayer is not a secret hotline for pastors, though. We all have so many reasons to pray! We should pray because God tells us to pray (see 1 Thessalonians 5:17 and Ephesians 6:18). We could also pray because we desperately need God to do something for us (see Hebrews 4:16).
I want to show you another especially important motivation to pray from Psalm 100. We can pray with joy if we are motivated by a passionate love for God.
The first two verses of Psalm 100 describe what this feels like.
"Shout joyfully to the Lord, all the earth. Serve the Lord with gladness; Come before Him with joyful singing" (Psalm 100:1–2).
"Shout joyfully" refers to the same kind of shout that would go up when a king appeared before his people, or when soldiers were charging into battle. It is fierce and triumphant. The word "gladness" literally means "glee." Praying to the Lord will never be drudgery when we are feeling a sense of glee. "Joyful singing" or "a shout for joy" has the idea of open, loud, joyful displays of our delight in God.
Now, I know what some of you are thinking, "That sounds great, but I don't feel that kind of excitement when I pray." Here is the key: This kind of excitement comes from a close and loving relationship. How do you have that kind of relationship with God? We must spend time with Him. If we really love someone, we look for ways to spend time with him or her. We think about that person often. We work at building the relationship. We put our resources and our energy into it.
How can we have that kind of love for God? Psalm 100 also shows us how we can develop a passion to love God. We are told in verses 3 and 5 of Psalm 100. "Know that the Lord Himself is God; It is He who has made us, and not we ourselves; We are His people and the sheep of His pasture… For the Lord is good; His lovingkindness is everlasting and His faithfulness to all generations" (Psalm 100:5). "The LORD Himself is God" means that the eternal God is the "I AM the I AM" or "the eternally self-existent One." "… For I am God, and there is no other; I am God, and there is no one like Me… My purpose will be established, and I will accomplish all My good pleasure" (Isaiah 46:9–10). What a joy to know that no circumstance will ever be more powerful than God.
Also notice that God is the One who "made us." Knowing why He made us is especially important "Worthy are You, our Lord and our God, to receive glory and honor and power; for You created all things, and because of Your will they existed and were created" (Revelation 4:11). We didn't create ourselves, that is why there is great joy in doing what we were made to do. "For we are His workmanship, created in Christ Jesus for good works…" (Ephesians 2:10).
God made us to know, follow, and obey Him. We exist to serve Him. When we pray, we are talking with our Creator. He formed us for that fellowship, and it brings deep satisfaction.
It is also exciting to see God provide our many needs. "We are His people and the … sheep of His pasture" What an amazing thing to be cared for by the all-powerful Creator of the universe! God, who is exalted so far above us that we could never reach Him, is willing to reach down to us and make us one of His own.
The method we need to follow in learning to love God reminds me of a Peanuts cartoon. Lucy is trying to flirt with Schroeder, who is always playing the piano. Lucy tells him, "My personality doesn't lie right on the surface. The real me is deep. But I'm well worth all the time it takes to understand me." Then she says, "In other words, to know me is to love me!" We smile at Lucy's attempts to woo Schroeder, but what she says about herself is true about God. The more we know God, the more we will love talking to Him.
God was willing to come down and pay the penalty for our sin. Our response must be joyful praise! "He predestined us to adoption as sons through Jesus Christ to Himself, according to the kind intention of His will, to the praise of the glory of His grace, which He freely bestowed on us in the Beloved" (Ephesians 1:5–6). We benefit from God's forgiveness, and at the same time, He gets praise for saving undeserving sinners like you and me.
Another source of great joy in our prayers is that God's "lovingkindness is everlasting." God's love for His own does not fluctuate. His love is consistent because it is based on His decision to love, not on our performance. "He has not dealt with us according to our sins, nor rewarded us according to our iniquities. For as high as the heavens are above the earth, so great is His lovingkindness toward those who fear Him" (Psalm 103:10–11).
Passionate prayer springs from a knowledge of what God is like, not just from the things that God gives to us.
The feelings you have about prayer reveal something about you, too. If you aren't interested in it, are you really a genuine child of God? Heaven is a place where God's presence is eternally enjoyed. Are you enjoying some of that presence when you pray? If you love Jesus, prayer is a joy now, and it is also a looking forward to eternal joy in the future.
Don't miss next week's article. Have you ever wondered if God is hearing your prayers? Next week I'm going to show you how you can know when your prayers are being heard by God. Until then, I'm hoping you have a week filled with joyful prayer and praise!