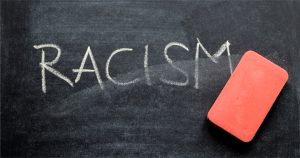 Racism is a personal problem that continues to affect nations and communities around the world, and America is no exception. Sadly, racial problems have always been a part of the fallen human condition, and multiple, horrifying videos have recently pushed its ugliness out in the open for all to see. Those stories are tragic reminders that the horror of racism is still alive. It has been hard to watch the violent reactions to this injustice, as well, which proves that hatred and violence usually breed more hatred and violence.
I'm happy to report that there is a solution to racism. It is available, and it's easy to see how much we need it. Let's drill down and discover the root cause of racism. Problems are rarely solved if we don't understand what is causing them. This is especially true of racism. Like peeling an onion, we need to look beyond what we see on the surface and discover what is causing the racial hatred in the first place.
Here is the first layer that needs to be unveiled. Racism is fueled by the sin of prejudice. Prejudice, as defined by the Encarta Dictionary, is "a preformed opinion, usually an unfavorable one, based on insufficient knowledge, irrational feelings, or inaccurate stereotypes." In other words, being prejudiced means making negative judgments about a person, or a group of people, just because they are superficially different. It is wrong for anyone to make judgments about other people based on their outward appearance, their culture, or what positions they hold. These attitudes and opinions are just straight-up unacceptable and wrong.
The next layer we need to peel away requires that each of us take some strong medicine. When you look behind the mask of prejudice, what you discover is pride. Pride tells us that we are superior to others. Pride means we make ourselves the standard of goodness. The Bible warns us about this. "Do you see a man wise in his own eyes? There is more hope for a fool than for him" (Proverbs 26:12).
We are less likely to see ourselves as better than others when we understand that we are all made by the same Creator. So, there is only one race — the human race. "God created man in His own image, in the image of God He created him; male and female He created them" (Genesis 1:27).
In the midst of this, remember that humility means being willing to listen to others before we come to a conclusion about them. It is possible to come across as prejudging a person when that is not our intention. "The way of a fool is right in his own eyes, but a wise man is he who listens to counsel" (Proverbs 12:15).
The good news is that God is really effective at solving prejudice and racism. He can make it so that enemies become friends. Let me show you how that works.
It begins when we accept Christ's gift of forgiveness, and we give our lives to Him. God doesn't just forgive our sins. He also performs this amazing miracle: "If anyone is in Christ, he is a new creature; the old things passed away; behold, new things have come" (2 Corinthians 5:17). Old prejudices and suspicions can be replaced with a new compassion for others.
Once a person belongs to Christ, he or she learns that all are sinners in need of Christ's forgiveness. As one person put it, "The ground is level at the foot of the Cross." In Christ, "There is neither Jew nor Greek, there is neither slave nor free man, there is neither male nor female; for you are all one in Christ Jesus" (Galatians 3:28).
Don't misunderstand. In many ways, Christ's followers remain different from each other. That includes things like different skin color, different cultures, different abilities, different backgrounds, etc. A black person keeps their blackness; a white person keeps their whiteness; an Asian remains Asian; and so forth. Although people who become Christians keep their basic cultural differences, they are all adopted into the same family. "…I say to everyone among you not to think more highly of himself than he ought to think; but to think so as to have sound judgment, as God has allotted to each a measure of faith…so we, who are many, are one body in Christ, and individually members one of another" (Romans 12:3, 5).
Here is what changes: Christians have a deep affection for other Christians because they all belong to the same spiritual family. "Let the peace of Christ rule in your hearts, to which indeed you were called in one body; [one family] and be thankful" (Colossians 3:15). Christians remain distinct in diverse ways, but they have a bond that ties them together in spite of their differences. That's because they all love the same Jesus.
God intends for local groups of believers (churches) to display how God has radically changed their lives. Jesus put it this way, "By this all men will know that you are My disciples, if you have love for one another" (John 13:35).
Real Christians know they can't be biased against other Christians because they belong to the same family. Real Christians also know they can't be biased against non-believers because Christians want everyone to experience the same love that God has poured into their own lives.
When Jesus has rescued us from the penalty of our sins, then "we are ambassadors for Christ, as though God were making an appeal through us; we beg you on behalf of Christ, be reconciled to God" (2 Corinthians 5:20). I hope you have been, or will seek to be, reconciled to God so His love will flow through you to those around you. When that happens, you can join me in being part of God's family as we work together to erase racism from our hearts and from our communities.