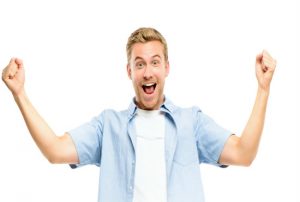 Advertisers are working hard to make us unhappy. According to Randy Alcorn's book The Treasure Principle, "A PBS television program stated that the average American sees over a million commercials by age 20." Wow! That is a lot, but the biggest problem isn't the number of ads. Here is the biggest problem: Almost all ads are telling us that we need their product in order to be happy. Picture the typical car commercial as an example.
Getting something new can be exciting, but it's not long before the newness wears off. The philosopher, Immanuel Kant (1724-1804), saw this and observed, "Give a man everything he wants, and at that moment, everything will not be everything." King Solomon put it this way, "He who loves money will not be satisfied with money, nor he who loves abundance with its income. This too is vanity" (Ecclesiastes 5:10).
The sad truth is that we can always find something we don't have and wish for it, thinking that it will make us happy. Sometimes it involves more money, more talents, stronger bodies, more (or better) friends, or even wishing to be better looking. Those things we're longing for, though, will never make us happy.
Neither sinful pleasures nor getting more things will bring lasting happiness. There is a better way. Pastor John MacArthur points to the solution. He said, "If you think sin is fun, try holiness." That may sound shocking, but I have come to realize how true that statement really is. The Bible has a lot to say about the joy of doing what God wants us to do.
Here is a sample.
"The precepts of the Lord are right, rejoicing the heart … They are more desirable than gold, yes, than much fine gold; Sweeter also than honey and the drippings of the honeycomb" (Psalm 19:10).  "The righteous man will be glad in the Lord…." (Psalm 64:10). "I have inherited Your testimonies forever, for they are the joy of my heart" (Psalm 119:111). "…Your words became for me a joy and the delight of my heart…." (Jeremiah 15:16). Jesus listed nine behaviors that would bring His followers happiness in Matthew 5:3-12.
Ironically, doing what pleases God brings more happiness than all of the world's pleasures. Since there is so much joy and happiness to be found in following God, how can we access it?
Here are three tried and true tips that will open up the happiness that God wants us to have.
#1 Trust that God owns everything. When we see ourselves as the owner of something, it lays a huge burden on us. We have to take care of it and keep from losing it. That is the wrong way to look at our possessions, though. Since "The earth is the Lord's, and all it contains, the world, and those who dwell in it" (Psalm 24:1), then God owns everything, including us. When you think about it, that also means that we ultimately own NOTHING. That truth brings us great relief because we can trust God to take care of what He owns.
Not only does God own everything, Christians know that in a special way their bodies also belong to the One who saved them. "Or do you not know that your body is a temple [dwelling place] of the Holy Spirit who is in you, whom you have from God, and that you are not your own? For you have been bought with a price: therefore, glorify God in your body" (1 Corinthians 6:19–20).
#2 Be realistic about what you deserve. We all tend to overestimate our own personal goodness. The truth is that God is only satisfied with perfect holiness (I Peter 1:15-16), and none of us can meet God's standard of perfection (Romans 3:23). Since God hates all sin (Romans 1:18), the only thing we rightly deserve is God's wrath. In other words, God doesn't OWE us anything that is good. In spite of that, God does give us many good things, but the point is that we don't deserve them.
To put it another way, what we deserve is what Jesus suffered for us on the Cross. That truth magnifies how good God is because Jesus willingly suffered in our place. "For Christ also died for sins once for all, the just [Jesus] for the unjust, [you and me] so that He might bring us to God, having been put to death in the flesh, but made alive in the spirit" (1 Peter 3:18).
#3 Love Jesus because of His love for you. That brings real happiness for those of us who follow Christ. "We love, because He first loved us" (1 John 4:19). We cannot help but be happy that Jesus rescued us from our sin and adopted us into His family. I know this may sound odd until you experience it, but the Lord can be your intimate friend. We Christians "… have received a spirit of adoption as sons by which we cry out, 'Abba! [Daddy] Father!'" (Romans 8:15).
Happiness comes from having a loving relationship with the Lord. If you have given your heart to Christ, then you can say with Paul, "Who will separate us from the love of Christ? Will tribulation, or distress, or persecution, or famine, or nakedness, or peril, or sword?… For I am convinced that neither death, nor life, nor angels, nor principalities, nor things present, nor things to come, nor powers, nor height, nor depth, nor any other created thing, will be able to separate us from the love of God, which is in Christ Jesus our Lord" (Romans 8:35, 38–39).
God's ways are the only ones that can really satisfy us. As Jesus put it, "Blessed are those who hunger and thirst for righteousness, for they shall be satisfied" (Matthew 5:6). When we follow Jesus, then, and only then, can we "… sing for joy to the Lord, [and]… shout joyfully to the rock of our salvation" (Psalm 95:1).