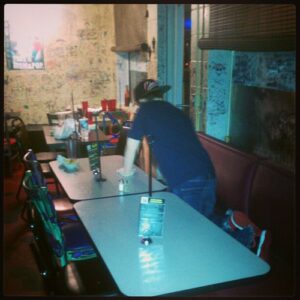 This will not surprise you, but the Bible talks a lot about sin. That three-letter word is used at least 430 times in the Scripture, and that number doesn't count other Bible words with similar meanings, like evil, iniquity, and transgression, just to name a few.
If we aren't careful, we will miss the tragedy of sin because there is so much of it in our world. After all, everybody sins, right?
Since the Bible has so much to say about sin, let's take a minute and make sure we know what sin is.
Here is a brief definition: Sin is thinking or doing things that contradict God's nature or the instructions He has given to us. That means that sin is rebellion against God. It is like saying to God: "I make the rules. I can decide what is right and wrong for myself!"
That leads us to ask: Why does God get to make all the rules? That question is answered in the very first verse of the Bible: "In the beginning, God created the heavens and the earth" (Genesis 1:1). God made everything we have seen or ever will see. Since God owns the world and everything in it, He has the right to decide what the rules are.
Let me use a fictional story to picture that truth.
There was a young man who had a dream of owning his own restaurant. He paid for classes where they taught him the best way to start a small business. He thoroughly researched the best place to begin his type of restaurant. He raised part of the money to open his new business by mortgaging his own home, and then he borrowed the rest of what he needed. He soon discovered that the restaurant business required him to put in 12 to 14 hours a day, six or seven days a week.
The job was exhausting, but after many years of grueling work, he was able to pay off his loans. Gradually he began to make some profit. Then, as the years went by, he was able to open a second and then a third restaurant. They were all successful.
One day he hired a teenager to be a waiter in one of his restaurants. It was the young man's first job. From his first day, he acted like he knew how to run the restaurant better than the owner. He criticized what was on the menu, how the food was cooked, the hours of operation, how much he was being paid, etc.
We wouldn't be surprised if the owner fired that arrogant young man, right?
Here is the point. We look like that conceited teenager when we question how the eternal God runs His universe–and what He calls sin.
The story of Job is another example. A season of great suffering prompted Job to sin by accusing God of doing wrong when He allowed a good person like himself to endure so much pain (see Job, Chapter 31). God responded by asking him a series of unanswerable questions. Here are two of them. "Where were you when I laid the foundation of the earth? Tell Me if you have understanding…. Have you ever in your life commanded the morning, and caused the dawn to know its place?" (Job 38:4, 12).
How dare we question why God does what He does! He has always existed, and compared to Him, we have lived barely a fraction of a second.
"Who has ascended into heaven and descended? Who has gathered the wind in His fists? Who has wrapped the waters in His garment? Who has established all the ends of the earth? … Every word of God is tested; He is a shield to those who take refuge in Him. Do not add to His words or He will reprove you, and you will be proved a liar" (Proverbs 30:4–6).
The all-powerful God is not cruel, though. Even though sin separated us from our Creator, ruined our world, and plunged us into misery, God has a rescue plan. He loves us. He wants us to turn from our own way and ask Him for the help only He can give. When we do that, He will weave even the difficult things we have experienced into good things (Romans 8:28-29).
God entered our world; paid the penalty our sin deserves so God's justice can be satisfied. "He was despised and forsaken of men, a man of sorrows and acquainted with grief…. Surely our griefs He Himself bore, and our sorrows He carried… But He was pierced through for our transgressions, He was crushed for our iniquities; The chastening for our well-being fell upon Him, and by His scourging, we are healed. All of us like sheep have gone astray, each of us has turned to his own way, But the Lord has caused the iniquity of us all to fall on Him" (Isaiah 53:3–6).
Remember the suffering of Job? God showed His love to Job by ultimately giving him way more than he lost–as well as giving him an eternity of immeasurable blessings. (Please read Job 42:10-17.) All of us who have a personal relationship with this Almighty God have similar stories about His love and His grace. I hope each of you will turn from sin and put your trust in His wisdom and grace.