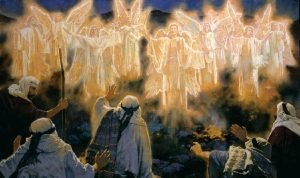 Over two thousand years ago when Christ was born, a small group of shepherds were on the job taking care of their sheep on a hillside outside of Bethlehem. Unexpectedly, a large group of angels appeared and announced that the Messiah had been born! They told the shepherds that this Messiah would bring peace to this earth: "Suddenly there appeared with the angel a multitude of the heavenly host praising God and saying, 'Glory to God in the highest, and on earth peace among men with whom He is pleased'" (Luke 2:13-14).
So, where is this peace that was promised? We certainly don't see it the daily news, let alone our daily lives!
It was only a few years later, when this same Messiah, Jesus Christ, predicted that eventually the world would be filled with "wars and rumors of wars" (Mark 13:7). What happened? After all, the world has indeed seen one horrific tragedy after another ever since Jesus left this earth. Did Jesus fail in His mission to bring peace?
No, He did not fail. Let me explain why I can say that with certainty. The angel's announcement pointed to two different ways that peace would come to the earth.
Christ did not come that first time, to the manger in Bethlehem, to force global peace upon the earth. Someday that will happen, though, when He returns the second time. "…The Lord Jesus will be revealed from heaven with His mighty angels in flaming fire, dealing out retribution to those who do not know God and to those who do not obey the gospel of our Lord Jesus. These will pay the penalty of eternal destruction, away from the presence of the Lord and from the glory of His power," (2 Thessalonians 1:7–9). Then, and only then, will this world experience real lasting peace. "There will be no end to the increase of His government or of peace…From then on and forevermore…." (Isaiah 9:7).
Jesus will one day come and clean up this sin-cursed world. He will then establish a perfect, eternal peace. In the meantime, though, we can still have an amazing personal peace in spite of the chaos around us.
The reason this world cannot live in peace is the sin that festers in the heart of every human being, including you and me. Had Jesus forced the world to live in peace, that would not have solved the sin problem. Sin is the cause of every hurtful thing we hear about and experience in our everyday lives.
Jesus Christ came to earth over 2,000 years ago to make personal peace available to all who put their trust in Him. Jesus provided a cure for humanity's sin problem by coming to earth and living a perfect life, dying a sacrificial death, and by raising Himself from the dead. That is how He can offer lasting peace to every one of us. Real, internal peace is now available to all who come to our living Lord and trust Him for salvation. That peace is offered to all, but if we are to have it, we must each personally, individually accept and embrace it.
Sadly, most of the human race has been rejecting Christ's offer of peace for the last 2,000 years. Instead, "All of us like sheep have gone astray; each of us has turned to his own way…." (Isaiah 53:6).
Jesus came so that in spite of our sin problem, we could have a peaceful relationship with the Creator God who is pure and holy. The peace that Jesus offers is so miraculous it "… surpasses all comprehension, [and] will guard your hearts and your minds in Christ Jesus" (Philippians 4:7).
Jesus rules and reigns over the hearts of those who have stopped fighting Him and who have surrendered to His offer of forgiveness. That surrender brings a deep and lasting peace!
God's peace has not failed! To this day, He continues to offer us a peace that will never go away. Jesus Himself gave us this promise, "Peace I leave with you; My peace I give to you; not as the world gives do I give to you. Do not let your heart be troubled, nor let it be fearful" (John 14:27).
Don't despair! The peace that the angels announced at Christ's birth is still available.  "Seek the Lord while He may be found; call upon Him while He is near.  Let the wicked forsake his way and the unrighteous man his thoughts; and let him return to the Lord, and He will have compassion on him, and to our God, for He will abundantly pardon" (Isaiah 55:6-7).
From my home to yours, I hope you are experiencing a Christmas season that is filled with Christ's peace!