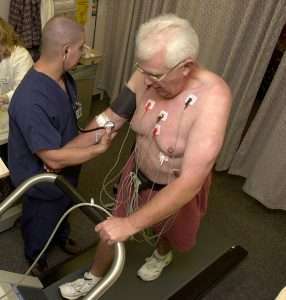 Because I'm getting older, not long ago my doctor scheduled me for a stress test. It is an interesting experience. They hook you up to all kinds of wires that monitor your heart rate, breathing, and who knows what else.
They put me on a treadmill and started it moving very slowly. I walked at an easy pace. No big deal, I thought. This is easy. Gradually, though, they began increasing the speed, and they also raised the incline. Before long I was breathing heavier and heavier. Just when I wasn't sure if I could keep up that fast pace any longer, the doctor said, "Good job," and he stopped the test.
Because I understood the importance of the test (the doctor wanted to know if my heart was healthy), the stress they put me under made sense. If I thought that they were just trying to make me uncomfortable, that test would have made me angry. If I hadn't had faith in the doctor's knowledge, the test would have frightened me. I would have been afraid it might even hurt me.
God often works in similar ways. The difference is that He doesn't allow stress so He can know how we will react, God already knows that. God allows stress so WE can learn what He already knows about us.
What do God's stress tests show us? We can learn more about this from a stress test that God gave to the Apostle Paul. You can find the story in II Corinthians 12:7-10.
The Apostle Paul was suffering from a severe disability. He doesn't tell us what it was, but it was so bad that he begged God three times to take it away. With the amazing amount of faith that Paul had, you would think that God would step in and end that very stressful problem in Paul's life immediately. That isn't what happened. God didn't take that disability away.
Instead, God gave a very unexpected reply. God explained that when a Christian is faced with his/her own weakness, that makes God's blessings more available. Notice how God worded it: "My grace is sufficient for you, for power is perfected in weakness…" (2 Corinthians 12:9a).
Look at how Paul reacted to his stress test. "…Most gladly, therefore, I will rather boast about my weaknesses, so that the power of Christ may dwell in me" (2 Corinthians 12:9b). Paul didn't like his disability, but he loved Jesus so much that he was willing to endure discomfort if it meant that he could have more of Christ's presence and strength in his everyday life.
Bible teacher Warren Wiersbe makes a good point: "God did not change the situation by removing the affliction; He changed it by adding a new ingredient: grace."
If you are a follower of Jesus Christ, then you have every reason to love Him even more than you love your personal comfort. Why? Because He paid your sin penalty for you, and His death has ensured that eternal happiness is waiting for you. "We know love by this, that He laid down His life for us…." (1 John 3:16).
Corrie Ten Boom (1892-1983) was a Dutch Christian who helped many Jews escape from the Nazi Holocaust. She gave us this wise counsel:
Look at self and be distressed,
Look at others and be depressed,
Look at Jesus and you'll be at rest!
The question is NOT "Is your life comfortable?" The question is "Who is responsible for the stress in your life?" When you know that a wise and loving God has planned it and has complete control of it, your heart can be at peace. The stress that He has allowed in your life is designed to awaken you to your need for His grace, for His presence with you. Look to Jesus, and you will find that His help is what you really need.