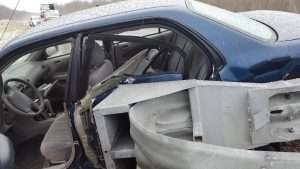 I don't have to remind you that this world is a scary place. Even after we take all the precautions we can think of, something bad can still happen. I was in a car accident last week (see picture) that reminded me of that truth.
My son Derick and I were traveling back from a meeting in Harrisburg. My little car had an airbag, and our seat belts were safely fastened. I was driving under the speed limit because it was snowing. With no warning, we hit an icy patch, spun around, and wound up with a guardrail protruding into the empty (thankfully!) back seat. My injuries were painful, but not life-threatening or permanent. I am doing well now. Derick was a little shaken, but unhurt.
That accident got me to thinking: What can we do to make life less scary? I read a story about a man who tried to do everything he could think of to keep his children safe.
He was a mural artist named J. H. Zorthian. He heard about a small boy who had been killed in a traffic accident. Since he had three small children of his own, he began thinking about how his own children were at risk. He imagined how horrible he would feel if one of his children were killed in an accident. His concern turned into fear, and his fear became an anxious obsession.
Soon he couldn't concentrate enough to work on his paintings. He canceled his plans to buy a large house in busy Pasadena, California and began looking for the safest possible place for his children to live. He tried to imagine every potential danger. He decided that the location must be remote and the property large, so he bought twelve acres of land on the top of a mountain at the end of a long winding road. At each turn in the road, he posted signs that said, "Children at play." Before construction began on the house, Mr. Zorthian built a fenced play yard for his three children. He made it so that it was impossible for a car to come within fifty feet of it.
Every detail of the design of the house was analyzed with the thought of safety in mind. Finally, the garage was built. Only one automobile would ever drive into that garage–Zorthian's. When all the construction was complete, one more possible hazard occurred to him. He had to back out of the garage, and he might accidentally run over one of his children. He immediately made plans for a protected area where he could turn his car around so he wouldn't have to back out of his garage.
The contractor returned and set the forms for the additional area, but before he could pour the concrete, a downpour stopped the work. Because of the rain, the turnaround was not in use on Sunday, February 9, 1947. On that day his eighteen-month-old son, Tiran, ran behind Zorthian's car as he was backing out of his driveway. The child was killed instantly. How sad!
If all of our best efforts to be safe are not always enough, what can we do? After all, the Creator is all-powerful, and He controls every single circumstance. I know He could have kept my accident from happening. As the great sufferer Job told God, "I know that You can do all things, and that no purpose of Yours can be thwarted" (Job 42:2).
The obvious truth is that God allows trials, sometimes even very painful ones. Is all lost since it is impossible to make our everyday lives completely safe? The truth is that no matter what we do, we are stuck in a broken, sin-cursed, and unsafe world.
In spite of all that, there is really good news. Even though God doesn't promise a life without troubles, He has something even better for His followers. God promises to share His own glorious and loving presence with all who follow Him. "… You are My servant, I have chosen you and not rejected you. Do not fear, for I am with you; do not anxiously look about you, for I am your God. I will strengthen you, surely I will help you, surely I will uphold you with My righteous right hand" (Isaiah 41:9b–10).
Although life can be hard, the blessings that God gives His children along with their sufferings are more than worth it. The Apostle Paul, who endured a lot of suffering (see 2 Corinthians 1:8-10) says,  "For just as the sufferings of Christ are ours in abundance, so also our comfort is abundant through Christ." (2 Corinthians 1:5).
When God told Paul that he was going to have to live with a very difficult physical problem, Paul rejoiced because he learned that God's "… power is perfected in weakness.…"  He went so far as to exclaim "… Most gladly, therefore, I will rather boast about my weaknesses, so that the power of Christ may dwell in me." (2 Corinthians 12:9).
The choice is ours. Do we want to continue frantically trying to control all of our circumstances, or are we willing to give our hearts to Christ and trust Him completely? "Trust in the Lord with all your heart and do not lean on your own understanding. In all your ways acknowledge Him, and He will make your paths straight" (Proverbs 3:5–6).
Complete peace of mind only comes from the Lord. He can provide that just as effectively in the city of Philadelphia as He can in a remote countryside.