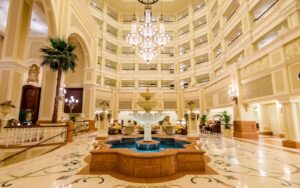 Many years ago, when we lived in North Carolina, we packed our family into our little Toyota hatchback for a day of sightseeing in Washington, D.C. We had never been there before. At the time we had three boys ages 9, 7, and 1. When we arrived in D.C., it began to rain. I was desperately looking for a parking space when my wife spotted one. I braked to turn into it, and another car slid on the wet pavement and slammed into the back of ours. No one was hurt, but the front wheels of our car were so bent that it couldn't be driven.
I called for a tow truck and found a dealer who promised to fix the car that day. (That was a miracle!) My wife loaded the baby in a stroller and, along with our ten-year-old, headed out to see what they could of D.C. The seven-year-old rode with me in the tow truck to the dealer. We waited there most of the day until our car was fixed. In the meantime, the rain continued to fall. My wife eventually had to take refuge in the lobby of an expensive hotel. Picture this: my wife and our two sons, exhausted and drenched, sitting in a lobby filled with marble, plush carpets, and lavish chandeliers overhead. The room was filled with wealthy guests hurrying by in their expensive outfits. Boy, did they feel out of place!
Expensive hotel lobbies aren't the only places where common people can feel uncomfortable. Places of worship can also make many people feel unwelcome or out of place. It should never be that way, though. The Gospel of Jesus Christ is for everyone. God's invitation is for all. "Everyone who thirsts, come to the waters; and you who have no money come, buy and eat. Come, buy wine and milk without money and without cost. Incline your ear and come to Me. Listen, that you may live; and I will make an everlasting covenant with you" (Isaiah 55:1,3).
Jesus illustrated this truth by telling a fascinating story about a king who threw a wedding party for his son. (You'll find the whole story in Matthew 22:1-14). When the invited guests showed no interest in coming, the king told his servants, "The wedding is ready, but those who were invited were not worthy. Go therefore to the main highways, and as many as you find there, invite to the wedding feast. [They] went out into the streets and gathered together all they found, both evil and good; and the wedding hall was filled with dinner guests" (Matthew 22:8-10). God doesn't care how insignificant we feel or what others think of us. He invites us all.
The Bible makes it clear that no one will be excluded from heaven because of race, intelligence, looks, or finances. Every week I get to experience a glimpse of what that will look like when I spend time with the people at Bethel Chapel Church. They come from many different backgrounds and from all parts of the world. We enjoy being together, not because we look alike, but because we all love the same Jesus Christ. All Christians delight in Him.
If you only feel comfortable around people who are just like you, then you would not enjoy heaven. The people there do not all look alike. Listen to what forgiven sinners in heaven will sing: "Worthy are You [Jesus] . . .  for You were slain, and purchased for God with Your blood men from every tribe and tongue and people and nation" (Revelation 5:9).
The Bible also makes it clear that, although all are invited, we must individually accept God's invitation to go to heaven. Those who accept it do so because they know they are sinners who desperately need forgiveness. The Bible says, "For while we were still helpless, at the right time Christ died for the ungodly" (Romans 5:6).
When we accept God's invitation, we are admitting that Christ's sacrifice on the Cross is all that's needed to pay for our sins. Forgiveness is God's work, and God's work alone. "When the kindness of God our Savior and His love for mankind appeared, He saved us, not on the basis of deeds which we have done in righteousness, but according to His mercy" (Titus 3:3-5).
If you are unfamiliar with our church, don't assume you would feel out of place if you visited. Please come. We focus on the One who is inviting you to trust Him for your forgiveness. He wants to change your life. Everyone who will "repent and believe in the gospel" (Mark 1:15) is welcome to come into the lobby of God's glorious grace. Praise the Lord! There is no need to feel "out of place" when God accepts you as one of His own.
Speaking to believers, the Apostle Paul says, "For you are all sons of God through faith in Christ Jesus" (Galatians 3:26). "Therefore, you are no longer a slave, but a son; and if a son, then an heir through God" (Galatians 4:7). A son or daughter of God never has to feel out of place around other members of God's family.