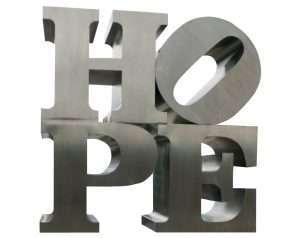 There is no doubt about it. Everybody needs hope. As we experience painful circumstances, great or small, they only become bearable when we have a hope that things will get better. Otherwise, why would we volunteer (and even pay for the privilege!) to sit in a dentist's chair?
When all hope for the future looks bleak, though, despair quickly sets in. Despair fosters a dangerous, and sometimes even fatal, depression. The solution, though, is NOT to grab onto anything that appears to glitter with hope.
Here are some examples. If you put your hope in winning the lottery, you will be disappointed 99.9% of the time. If you assume that every health problem will go away, at some point you will be wrong. If you expect to find the perfect relationship with someone who will give you hope and make everything OK, well, we all have past experiences to remind us of how unlikely that is.
Our biggest mistake is thinking that real hope somehow comes from our own ability to figure things out.  What we all need is a hope that is real, a hope that never disappoints. I have no use for a hope that comes from me, though. I know that I am frail and flawed at best.
Let me show you a hope that not only never fails, but also actually gives joyful energy to our daily existence. Notice what God does for the followers of Christ: "Blessed be the God and Father of our Lord Jesus Christ, who according to His great mercy has caused us to be born again to a living hope through the resurrection of Jesus Christ from the dead" (1 Peter 1:3). God doesn't just offer hope; He offers a "living hope through the resurrection of Jesus Christ from the dead." 
That kind of hope is more powerful than all of our daily problems put together!
Let me show you some reasons why Jesus is able to give us "a living hope" that will  carry us through the good times, as well as encourage us during the hard times.
Jesus is eternally glorious. When He was praying to His Father, He said, "Now, Father, glorify Me together with Yourself, with the glory which I had with You before the world was" (John 17:5).
Jesus provides the way to God: "I am the way, and the truth, and the life; no one comes to the Father but through Me" (John 14:6).
Jesus promised that His followers would have meaning and purpose in this life, "I am the Light of the world; he who follows Me will not walk in the darkness, but will have the Light of life" (John 8:12).
Jesus is able to forgive our sin. He is the only major religious leader who has made that claim and who has proved it openly. The Bible tells about a time when Jesus assured a crippled man that he had been forgiven of his sin. When the religious leaders were outraged, Jesus healed the man so that "you may know that the Son of Man has authority on earth to forgive sins…" (Matthew 9:6).
Jesus is God in the flesh. In Jesus "all the fullness of Deity dwells in bodily form, and in Him you have been made complete, and He is the head over all rule and authority" (Colossians 2:9–10).
This fulfilling and satisfying hope can be yours, but first you must turn away from your sin and put your trust in Christ. "How blessed is the man who has made the Lord his trust…." (Psalm 40:4). "Trust in the Lord forever, for in God the Lord, we have an everlasting Rock" (Isaiah 26:4).
American evangelist Dwight Moody (1837-1899) was once asked how he managed to have such an intimate relationship with Christ.
He replied, "I have come to Him as the best friend I have ever found, and I can trust Him in that relationship. I have believed He is Savior; I have believed He is God; I have believed His atonement on the cross is mine, and I have come to Him and submitted myself on my knees, surrendered everything to Him, and got up and stood by His side as my friend, and there isn't any problem in my life, there isn't any uncertainty in my work but I turn and speak to Him as naturally as to someone in the same room, and I have done it these years because I can trust Jesus."
The Apostle Paul said something similar: "Therefore, having been justified by faith, we have peace with God through our Lord Jesus Christ, through whom also we have obtained our introduction by faith into this grace in which we stand; and we exult in hope of the glory of God" (Romans 5:1–2).