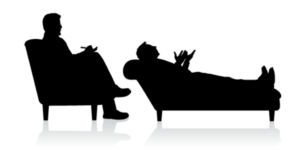 Yes, you read that right. I know you may have heard that you need to "forgive yourself" for some dark things that have happened in your past. It sounds like a good goal, but there are some real problems with that advice. I'll go into those issues in a minute, but first, let's look at what "forgive yourself" has generally come to mean.
I have learned that when a person asks me how they can forgive themselves, what they really mean is, "How can I stop carrying around this weight of shame and guilt?" The world says that you just need to forgive yourself. The Bible has a better idea.
What does our culture have in mind when it talks about self-forgiveness? According to an article by Kendra Cherry from www.verywellmind.com, "[Self] Forgiveness means that you accept the behavior, you accept what has happened, and you are willing to move past it and move on with your life without ruminating over past events that cannot be changed." The author goes on to give us this advice: "Understand that making mistakes that you feel guilty about does not make you a bad person or undermine your intrinsic value."
In other words, much of secular thought is: Don't let your bad behavior convince you that you are a bad person. Modern psychology says that one of the worst things you can have is low self-esteem. That means you should do whatever it takes to see yourself as a basically good person.
How does the Bible tell us to be set free from our feelings of guilt and shame? It doesn't tell us to forgive ourselves.
Our sins were not primarily committed against ourselves–or against other human beings. The problem is that our sins were against God. They have separated us from Him who is the source of life itself.
The first step to removing our guilt feelings is to admit that we need God's forgiveness. When King David struggled with guilt feelings because he committed adultery and even plotted to have an innocent man murdered, he realized that he needed God's forgiveness, not his own or anyone else's. He told God, "Against You, You only, I have sinned and done what is evil in Your sight, so that You are justified when You speak and blameless when You judge" (Psalm 51:4).
The second step that leads to complete freedom from guilt is accepting God's gift. Our good and holy God has already paid the price that our sin deserves. He took our punishment for us. Jesus became a human being, lived a perfect life, and died a horrible death to pay, not for His own sins, but for ours. God can forgive us because the punishment we deserve has already been paid for.
God does not forgive sin simply because He is loving. He is also just. Think about it this way: If God would forgive our sin just because we ask, then Jesus had no need to die on the Cross. The truth is that "In [Jesus] we have redemption through His blood, the forgiveness of our trespasses, according to the riches of His grace" (Ephesians 1:7).
Because of what Jesus did, God offers wonderful and complete forgiveness.  "If we confess our sins, [admit that we are guilty before God], He is faithful [He is always willing to forgive] and righteous [because God's wrath against sin has been satisfied] to forgive us our sins and to cleanse us from all unrighteousness" (1 John 1:9). When God forgives, He forgives it all. No guilt is left!
Instead of carrying feelings of guilt and shame, we can rejoice that all of it has been completely wiped away. "As far as the east is from the west, so far has He removed our transgressions from us" (Psalm 103:12). "'Come now, and let us reason together,' Says the Lord, 'Though your sins are as scarlet, they will be as white as snow; Though they are red like crimson, they will be like wool'" (Isaiah 1:18).
I love this quote by C. H. Spurgeon, a preacher from many years ago: "There are many sorts of broken hearts, and Christ is good at healing them all."
There is no greater feeling than knowing that the One who made us loves us thoroughly and eternally. It provides another amazing benefit, too. When we do remember our past sins, we can use those memories to remind us of what Christ has done for us. We can give joyful praise to God because they are forever gone. What a relief! That's so much better than relying on some kind of forgiveness we try to provide for ourselves.
We rejoice in God's forgiveness here at Bethel Chapel Church. One of our favorite songs is "His Mercy Is More" by Matt Papa. Here are the lyrics of the third verse and the chorus.
Verse 3:
What riches of kindness He lavished on us
His blood was the payment His life was the cost
We stood 'neath a debt we could never afford
Our sins they are many, His mercy is more
Chorus:
Praise the Lord
His mercy is more
Stronger than darkness
New every morn'
Our sins they are many, His mercy is more